Luxury Travel Newsletter
Newsletter 22 - Early Winter 2012
Just Back: Vienna, Prague & Berlin (slideshow)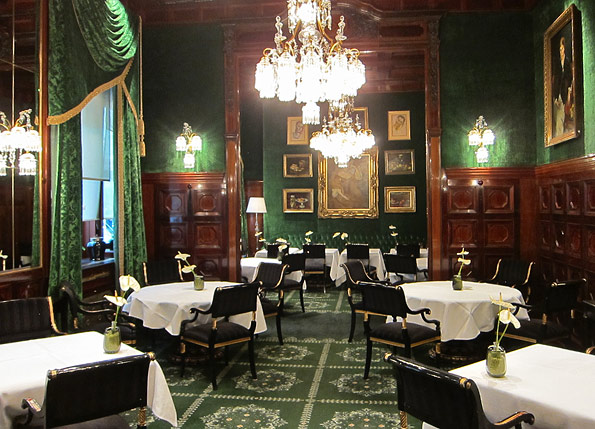 Classic Austrian style in the legendary Hotel Sacher Vienna
Our in-house travel specialists regularly venture to destinations around the world to keep up to date with the top luxury hotels and best private touring experiences. We recently returned from a trip to Vienna, Prague and Berlin. These, three cities combine perfectly for a trip filled with incredible culture, history, art, architecture, music and cuisine.

In Vienna, we sampled the culinary delights of the Naschmarkt, visited diverse museums, savored Viennese cafe culture, and spent a day in the beautiful Wachau Valley tasting top Gruner Veltliners. In Prague, we uncovered the best shops for Bohemian glass, enjoyed an evening of Classical music, visited excellent restaurants for traditional and contemporary Czech cuisine, and took excursions to charming UNESCO-listed towns in the countryside. In Berlin, we explored the most interesting neighborhoods, skipped the lines at the Reichstag's glass dome, dined like a local in a beer garden, and delved into the city's history during private visits to important sites and museums.

All of these activities—and many more customized to individual interests—can be incorporated into Artisans of Leisure tours in the region.

See some of our favorite places in the three capitals, and learn some of our insider tips, in this slideshow from the trip.



Launch Vienna, Prague & Berlin slideshow

An Interview with Our Newest Travel Expert
Meet Elizabeth Mandel, the newest luxury travel specialist at Artisans of Leisure. She's an intrepid traveler (she honeymooned in Tibet), an accomplished film producer and director, a mother of three daughters, a foodie, and a great member of our team.

Q: What do you like to do when you are traveling?
A: I always try to focus on what makes a place unique. I love to wander, to get a sense of a place and its people outside of the usual tourist destinations. I always seek out markets—food and crafts—but I also always try to visit the local supermarket, which is where you really get to see daily life, as well as to discover the food and goods that are typical to the destination. I enjoy archaeological sites, well-preserved towns and interesting architecture, including that of churches and temples. I also love the performing arts and always try to catch whatever is on. Dance and music are always particular attractions, because language is not an issue.

Q: What other experiences do you prioritize when you travel?
A: I often prioritize adventure travel, especially trekking and scuba diving. Both of those activities open up entire worlds that are otherwise unseen and enhance the feeling of discovery. I love the pulse and excitement of cities, but I also seek the solitude and tranquility of nature travel.

Q: Where have you traveled most recently?
A: Croatia, and we loved it. I'm looking forward to designing luxury Croatia tours for Artisans of Leisure.

Q: Where do you want to go next?
A: I'd love to bring my family on an Artisans of Leisure tour in New Zealand or the Galapagos and Peru.

Read the full interview on our blog.

Where to Go Now: India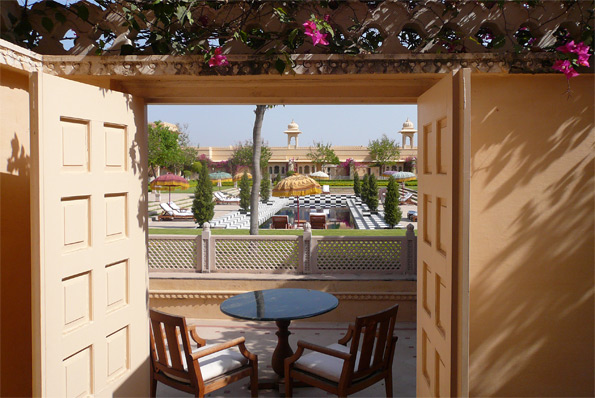 India offers fascinating touring and some of the world's most incredible resorts, including the Oberoi Udaivilas
India is one of our most popular destinations for the coming season. Why? In addition to great weather this time of year, the country offers amazing cultural touring, unbelievable beauty and over-the-top luxury.

Here's what a few of our travel experts selected as some of their favorite places and experiences in India:
"I love exploring Udaipur: the whitewashed streets, the lake views, the interesting shopping and the incredible palaces."— Ashley
"Tiger spotting in Ranthambore was one of my family's favorite activities."— Diana
"When I lived in Mumbai, I loved trying all the different types of food. As a crossroads of India, the city offers a bit of everything delicious in the country."— Elizabeth
"One of my favorite things is visiting archaeological sites such as the breathtaking cave temples of Ajanta and the stone-cut temples at Ellora"— Leah
"Watching the morning prayers along the Ganges River in Varanasi is one of the highlights of India for me."— Sonja
Visit our website to peruse our most popular India itineraries, such as Highlights of India, Essence of India and India in Style, or contact us to start planning a customized journey.

Expanding Our International Garden Tours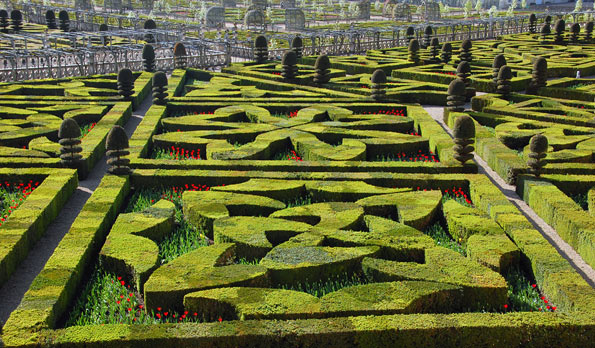 We arrange private tours of spectacular gardens, such as these at Chateau de Villandry in France
Like many of our travelers, we love visiting gardens when we travel. In addition to being beautiful, gardens reveal so much about local history, design, food, healing traditions, estate culture and more.

Our website features private, luxurious garden tours in Japan, Italy & Sicily, England and France. We also arrange customized garden tours in many other locations around the world, including Spain, Portugal, India, China, Singapore, South Africa, Australia and Mexico.

All of our private Garden Tours can be customized according to the degree of interest and level of expertise of the travelers. Contact us for more information.

Luxury in the Galapagos Islands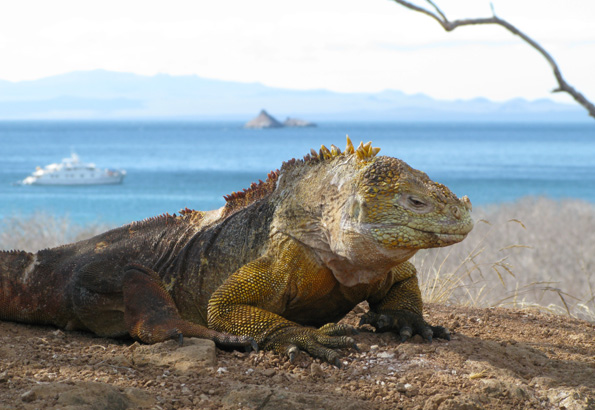 The wildlife and landscapes of the Galapagos Islands never fail to impress our travelers
Our Ecuador & the Galapagos tours have always featured the very best Galapagos cruises, so we are excited that Silversea has announced that they will begin operating weekly cruises in the archipelago next year. Keep an eye out for our new tours that will include the Silversea boat, or contact us for more information.

We highly recommend combining our Galapagos cruises with Machu Picchu in nearby Peru, as in our Best of Peru & the Galapagos tour, or with extraordinary destinations in mainland Ecuador, such as the Amazon basin and the Avenue of the Volcanoes.

What's New in Southeast Asia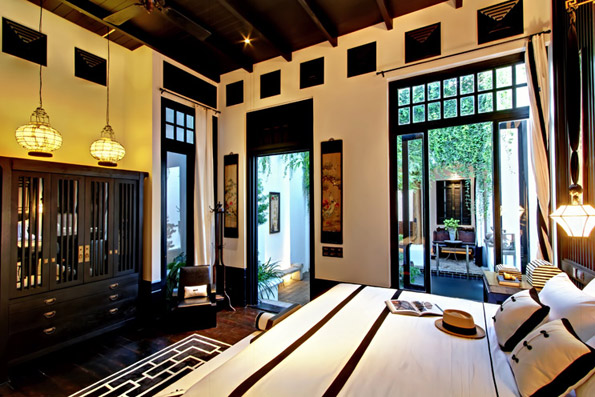 Our Southeast Asia tours always include the best hotels and resorts, including The Siam in Bangkok
Southeast Asia is such an incredibly rewarding region that many of our travelers return with us again and again. We're always adding new experiences and resorts to our tours. For example:

Lovers of Vietnamese food will enjoy our street food touring in Hanoi, which is a great way to try the excellent local cuisine in a safe and insider way. This activity can be included in any of our private tours of Vietnam. Also in Vietnam, a new Banyan Tree resort opened along the coast between Hue and Hoi An. And in 2014, we're looking forward to a new Mekong River cruise from Aqua Expeditions, which is known for luxury cruises in the Peruvian Amazon.

In Singapore, we've added new special interest spots and activities into our tours, such as exploring the architecture of the Marina Bay Sands complex, touring new art and nature highlights such as the beautiful Gardens by the Bay, and enjoying family-friendly attractions like the Singapore Flyer, a giant Ferris wheel.

Myanmar (Burma) is more popular than ever. Some of our favorite special interest activities include hot-air balloon rides over the ruins of Bagan, private tours of new art galleries in Yangon, luxury cruises on the Ayeyarwady River, private cooking classes and guided biking excursions. We highly recommend booking Myanmar tours as far in advance as possible.

Our new Romantic Cambodia tour includes private touring of Angkor, Siem Reap and Phnom Penh, as well as time to relax in an over-water bungalow at a luxurious private island resort in the Gulf of Thailand.

In Thailand, we highly recommend The Siam, an intimate new luxury resort on the banks of the Chao Praya River in Bangkok. It's ideal for repeat visitors to Bangkok or anyone seeking a secluded getaway in the city.


Contact us to begin planning the ultimate private tour in Southeast Asia.

Last-minute Europe over the Holidays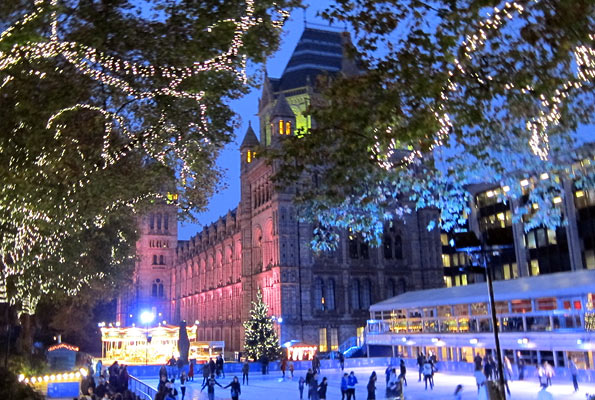 London's Natural History Museum is especially festive in winter
If you are thinking about a last-minute vacation over the holidays, consider European cities such as London, Paris and Rome. The cities are very festive this time of year—hotel rooms and lobbies are adorned with seasonal decorations, candles glow in windows, fireplaces crackle with warmth, and city squares are transformed into picture-perfect holiday markets.

Winter is also a good time to take advantage of Europe's incredible museums and other indoor cultural attractions. Contact us to start planning!

Just Back: South Korea (slideshow)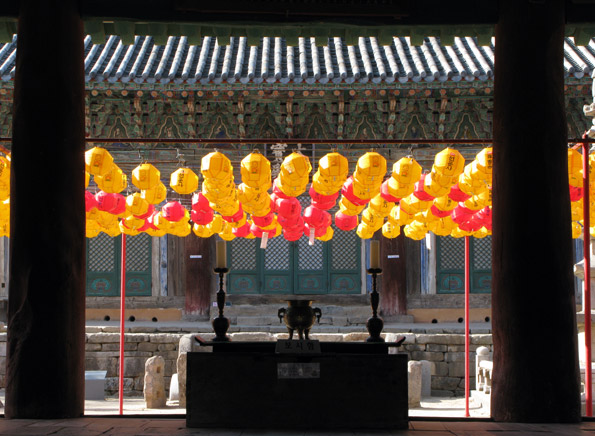 We arrange private visits to Buddhist temples as part of our South Korea tours
We have just returned from a wonderful trip to South Korea, where we enjoyed private touring of royal palaces and traditional gardens, dining on vegetarian Buddhist temple cuisine, shopping for local crafts and fashions, seeing fine porcelain and other artworks in the top national museums, and spending time on beautiful Jeju Island.

Our private South Korea tours are a great way to experience the country's best culture, traditions and cuisine. We can also customize our tours to include several days in Seoul or combine the capital with destinations in China, Japan or elsewhere in Asia.



Launch South Korea slideshow

Recent Press: Praise from Leading Guidebooks and Magazines
Visit our website to read our most recent press mentions, including Departures, Afar and Fast Company.

Contact your preferred travel consultant or call (800) 214-8144.

Website: www.artisansofleisure.com
Blog: www.artisansofleisuretraveler.com
E-mail: info@artisansofleisure.com
Follow us on Facebook and Twitter



Tel: 1 (800) 214-8144 or +1 (212) 243-3239
© 2012 Artisans of Leisure