Luxury Travel Newsletter
Spring 2014
From Our Travelers: A Family Tour of Greece & Turkey (slideshow)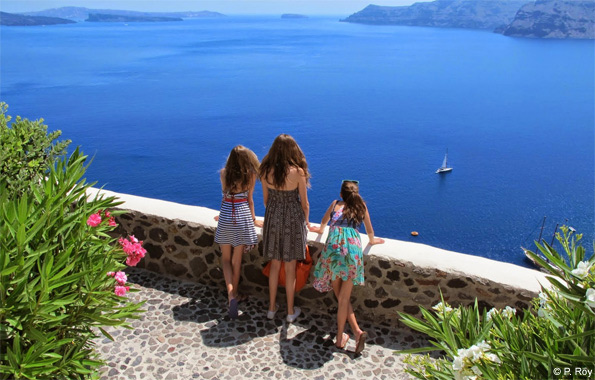 The girls on the island of Santorini, Greece
We are delighted to share this slideshow sent to us by a family that travels regularly with Artisans of Leisure.
The custom itinerary we created for them featured some of our favorite places in Greece and Turkey, including Athens, Santorini, Crete and Istanbul. Among the many highlights of their tour were seeing the Acropolis and other important ruins, exploring whitewashed towns in Santorini, taking private cruises in Istanbul and around Santorini, shopping in local bazaars, and staying at top luxury hotels and resorts in each location.



Launch Greece & Turkey slideshow

View our private tours in Greece and Turkey.

Iconic Italy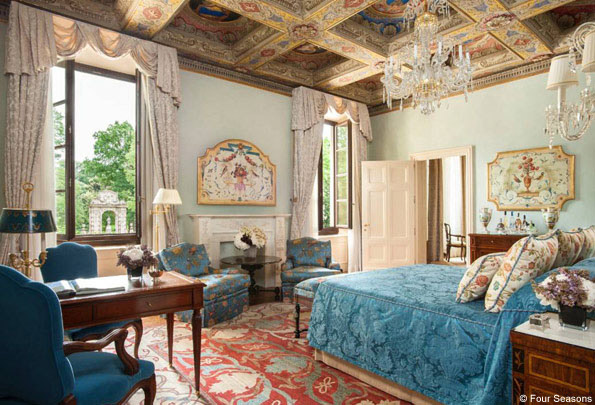 Four Seasons Hotel Florence
Italy is a perennial favorite destination for our travelers. The country's incredible culture, amazing food and beautiful landscapes reward repeat visits.

A few of our favorite Italy tours include:
• Highlights of Italy—ideal for first-time visitors—features insider touring in Venice, Florence and Rome
• Culinary Tour of Sicily combines the island's amazing foodie and cultural highlights
• Exclusive Italy is an over-the-top luxury tour that includes our favorite Italian cities, plus a few days at a luxurious resort on Lake Como
Peak season in Italy is fast approaching. Visit our website to see more of our private Italy tours, or contact one of our Italy travel specialists to start planning!

New Sri Lanka Tours (slideshow)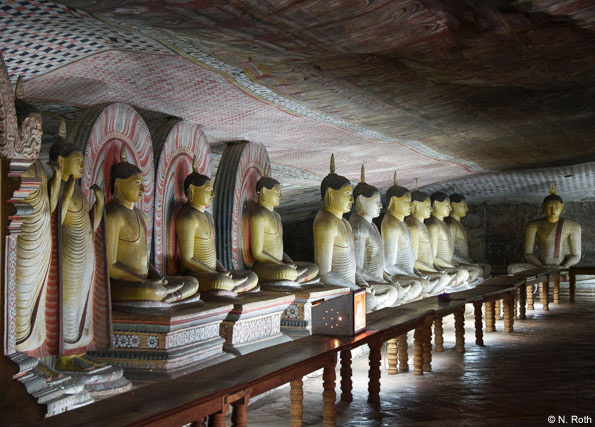 Our private Sri Lanka tours include UNESCO sites such as the cave temples at Dambulla
We are excited to announce the launch of our new private Sri Lanka tours.

Our specialists have traveled throughout the beautiful island country to create tours that include the most interesting and insightful experiences, such as touring ancient Buddhist cities in the Cultural Triangle, visiting a tea plantation in the verdant Hill Country, riding elephants, learning to prepare delicious Sri Lankan curry and rice, exploring UNESCO World Heritage Sites such as the rock temple of Sigiriya and the colonial-era town of Galle, and searching for leopards and other wildlife during private game drives in national parks and reserves.
Our private Sri Lanka tours also include the finest hotels and resorts in the country, such as the ultra-luxurious Aman properties (Amanwella and Amangalla) and Tea Trails, a Relais & Chateaux-affiliated hotel among the tea fields of the Hill Country.

View sample Sri Lanka itineraries on our website, or contact one of our specialists to plan a custom tour.
We hope you enjoy this slideshow of images taken by one of our in-house travel specialists and a client who traveled with us to Sri Lanka.



Launch Sri Lanka slideshow

Just Back: Scotland (slideshow)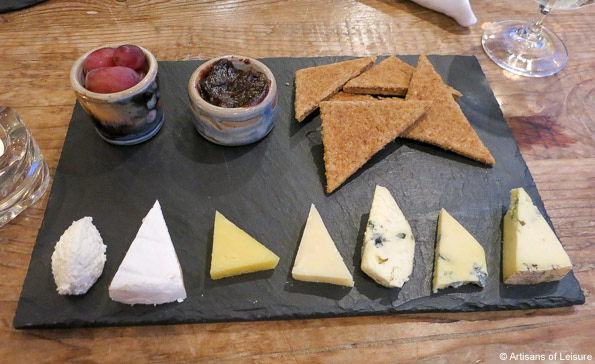 Cheese course at Three Chimneys on the Isle of Skye
On our most recent visit to Scotland, we traveled to the destinations in our Essence of Scotland tour, one of our most popular itineraries in the country. This tour features the history and romance of beautiful Edinburgh, the rugged landscapes of the Highlands and the Isle of Skye, and the luxury of Gleneagles, an upscale resort in the Perthshire countryside.

Our Scotland tours feature activities that capture Scotland at its best, such as staying in a castle, seeing the Highlands and beautiful scenery, cruising on Loch Ness, sampling Scotch whisky at distilleries, touring villages, exploring Scottish history, and dining on cuisine based on fresh local game and seafood. In addition, we can arrange for our travelers to trace their family roots, including visiting ancestral villages.



Launch Scotland slideshow

Exclusive France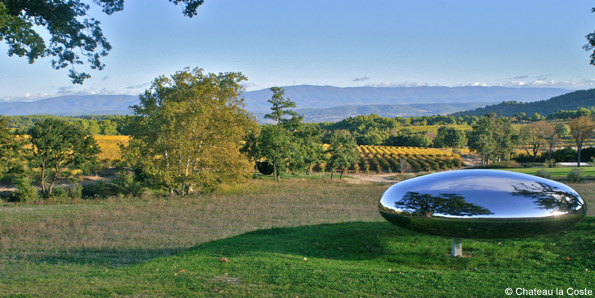 Chateau la Coste in Provence is a great destination for art, architecture and wine
Experiencing fine French culture and cuisine is essential to our private France tours.
Travelers wanting even greater access will be happy to know that Artisans of Leisure can arrange many special experiences, including touring with historians or art experts, private wine tasting, making perfume, shopping for antiques, private boat cruises on the Seine River or along the Cote d'Azur, biking excursions to chateaux in the Loire Valley, exclusive shopping tours in Paris, and reservations at the top restaurants in France.

Contact us to learn more or to start planning a customized France tour.

Meet Our Newest Travel Expert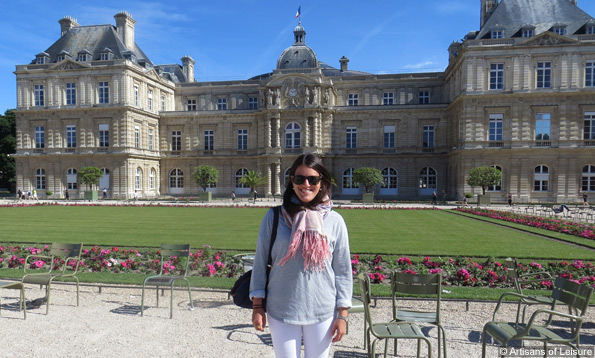 Sandy in Paris
We are happy to welcome Sandy Schnur to our growing staff of luxury travel experts. As a member of our Operations Department, she will be working closely with our travelers.
In addition to traveling widely throughout Europe and Asia, Sandy has also lived in Australia and Italy. Along the way, Sandy hiked Fox Glacier in New Zealand, visited a Maasai village while on safari in Kenya, explored the Western Wall tunnels in Israel, learned to surf in Bali, bottle-fed a baby tiger in Chiang Mai, and learned to make traditional ragu in Bologna. We're glad that Sandy brings her passion for travel, food and adventure to her position at Artisans of Leisure.

Read more about Sandy on our About Us page.

What's Hot Now: Peru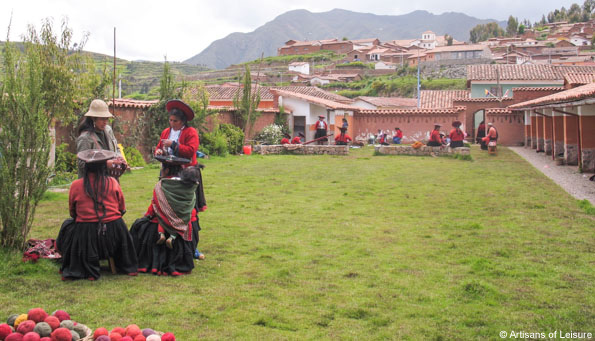 We arrange private visits to a weaving center outside Cusco, Peru
A private tour of Machu Picchu—one of the most spectacular archaeological sites in the world—is one reason our Peru tours are so popular. Another is riding the elegant Hiram Bingham train, which has nostalgic decor, gourmet cuisine and live entertainment. Our travelers also enjoy exploring Lima's renowned culinary scene, touring the atmospheric backstreets of Cusco, meeting local artisans, visiting lively markets, hiking in the foothills of the Andes and staying in luxury hotels.

All of these activities are included in our two most popular Peru tours: Essence of Peru and Peru in a Week. In addition, Essence of Peru features a luxury cruise through the jungle-fringed waterways of the Amazon basin, where monkeys, pink dolphins and other native wildlife thrive.

Travelers with a bit more time should consider our Best of Peru & the Galapagos, a perfect combination of South America's two blockbuster destinations.

Contact us to begin planning a customized South America tour.

Summer in London and Beyond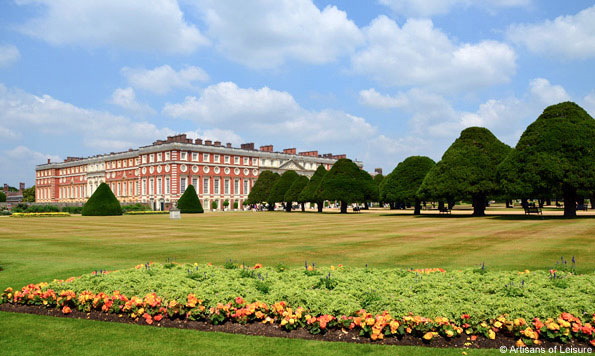 Hampton Court Palace is a great excursion from London
Summer is a perfect time to travel to London: parks and gardens burst with flowers, outdoor cafes spring to life, and the city pulses with energy.
Iconic destinations around London are also particularly attractive in summer. The city is the ideal base for private excursions to ancient Stonehenge, the beautiful villages and gardens of the Cotswolds, seaside Brighton, the Georgian architecture of Bath, the bucolic Hampshire countryside, royal Windsor and Hampton Court Palace (above).

View our recommended England tours, or contact us to start planning a trip for this summer.

On Our Blog: Faberge Eggs, Zippori in Israel, Favorite Breakfasts
For more insight into how the Artisans of Leisure style of travel is like no other, be sure to read our luxury travel blog.

The latest posts cover our private tours of the Faberge Museum in St. Petersburg, Russia; the mosaics at the Zippori archaeological site in Israel; and our favorite breakfasts in places such as on the terrace of a cave hotel in Turkey, at a cafe on a piazza in Italy, and overlooking terraced rice fields in Bali.

Read more on our blog.


Private touring. Only the best hotels. Our world of expertise.
Contact your preferred travel consultant or call (800) 214-8144.