Luxury Travel Newsletter
Summer 2009
Just Back: an Italy Slide Show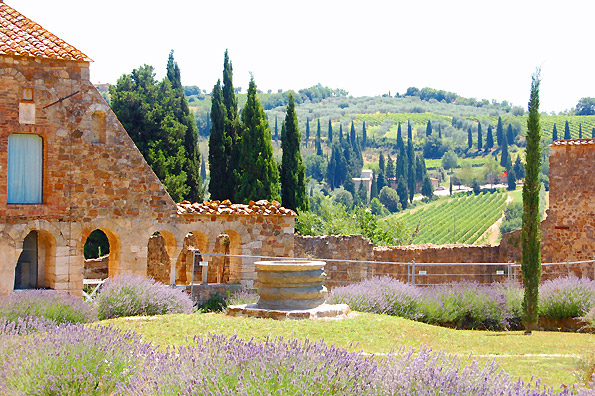 The heart of Tuscany, near Montalcino
We love revisiting Italy, and it remains one of the most popular travel destinations for our clients. First time visitors to Italy often ask us to plan tours that include Rome, Tuscany, Florence and/or Venice, while many repeat Italy visitors ask us to customize private tours that include time in major cities along with time in other regions such as Emilia Romagna, Sicily and Puglia.

We hope you enjoy this slide show from our recent summer visit to many of Italy's most recommended spots.



Launch Italy slide show

Time to Start Thinking about Winter Travel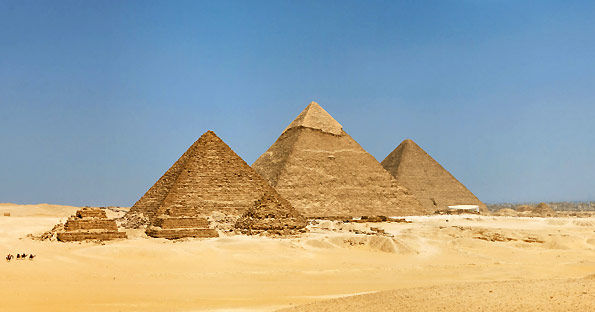 The best way to experience Egypt's incredible sites is accompanied by one of our private Egyptologist guides
Although last-minute travel is more popular than ever (our office is extremely busy with last-minute tour requests, and, yes, great options are still available if you want to travel this month!), we wanted to remind everyone that now is a great time to start planning winter and holiday travel. Argentina, Chile, New Zealand, Morocco, Egypt and Southeast Asia are a few of our top picks for this time of year.

Our Egypt tours offer the ultimate in luxury and access to the ancient wonders. For example, on Nile River cruises, we use only suites, and a private Egyptologist accompanies our travelers throughout the cruise to ensure that our clients enjoy the incredible sites on a private basis. In Morocco, we send one guide to escort our clients throughout the country. Highlights of our Morocco tours include exploring the tiny shops in the winding lanes of the souks (markets), spending a night at a luxury kasbah hotel in the mountains, and enjoying Morocco's exceptional restaurants and spas. Our Morocco tours also feature incredible luxury resorts—among the best in the world—and we are looking forward to the re-opening of the legendary La Mamounia hotel in Marrakesh at the end of September.

In Argentina, Chile and New Zealand, our tours feature an ideal combination of active private touring in spectacular landscapes, private cultural touring, and an emphasis on each region's excellent food and wine.

A week or two in Thailand, Vietnam, Cambodia or Laos is another great way to relax and enjoy great weather while also experiencing some of the world's most interesting cultures.

Just Back: Wilderness and Luxury in Australia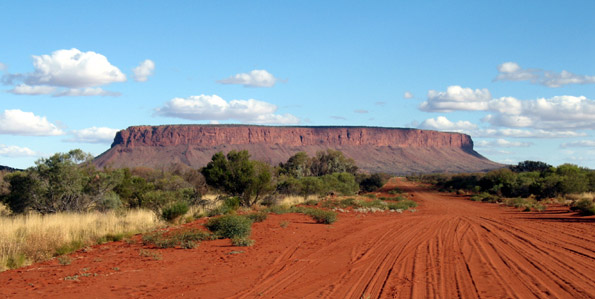 A private excursion to spectacular Mount Conner (Attila)
Sonja, one of our travel experts, just returned from an extensive trip throughout Australia. One of the highlights for her was Kangaroo Island, a wonderland of natural beauty just off the coast from Adelaide in South Australia, which she says is "totally underrated considering how amazing it is." She loved touring with one of our local experts, who showed her the island's unique wonders—untouched nature, abundant native wildlife, and tiny artisanal food and wine producers.

Sonja at Southern Ocean Lodge on Kangaroo Island

Kangaroo Island (or KI, as it's called by the locals) is also a perfect place for families. Children and parents alike love seeing kangaroos and wallabies feeding at dusk, baby sea lions sunning on the beach, koalas camped out in eucalyptus trees, and little penguins coming ashore to their burrows. Other special activities we arrange for our clients on Kangaroo Island include visiting a sheep station, swimming with wild dolphins, having breakfast on the beach, meeting local artists, sampling the renowned honey and cheese, and dining on fresh seafood. (Read an in-depth interview with one of our expert Kangaroo Island guides on our blog).

Sonja has also awarded the new Southern Ocean Lodge on KI a choice spot in her list of top 10 favorite hotels in the world: "The design and setting are out of this world, as is the fantastic food, which is made with fresh South Australian produce," says Sonja.
Elsewhere in Australia, Sonja also loved her private excursion to Mount Conner (Attila) in the Red Centre, meeting an enormous humphead wrasse while diving on the Great Barrier Reef, climbing the Harbour Bridge in Sydney, and having a private wine tasting tour of the Barossa Valley with a local wine expert.

Recent Press
Artisans of Leisure tours continue to garner accolades from the media. An article in the Summer 2009 issue of The New York Times: T Magazine featured Artisans of Leisure as a travel company offering what today's affluent travelers want—meaningful cultural experiences.

That will sound familiar to our clients. Luxurious cultural travel has been the essence of our tours since the beginning, and it has remained so as we have expanded into over 40 countries.

Visit Spain's Basque Country if You Love Food, Wine and Art!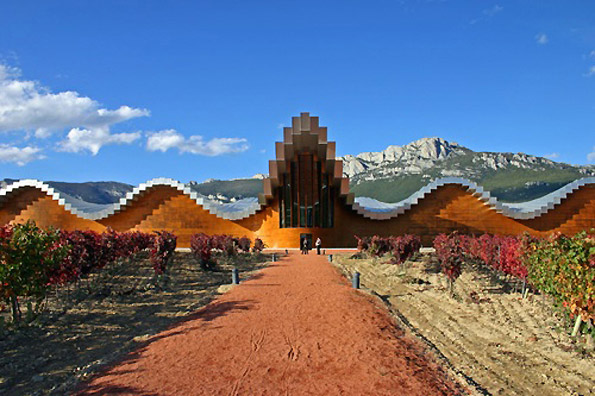 Take a private tour to La Rioja's best wines and most interesting bodegas
With its outstanding historical sites, Spain could easily rest on its laurels. Instead, it continues to build its reputation as a cultural innovator around creative cuisine, outstanding wine, and cutting-edge art and architecture.

A great way to experience the best of the new—and the traditions that inform it—is with our popular Spain tours in the Basque Country. We arrange pintxos (tapas)-tasting tours and cooking classes in San Sebastian, where experimental cuisine meets the revered traditions of gastronomic societies. We also get our travelers into exclusive private dining clubs for meals, cooking classes and camaraderie. In Bilbao, our expert guides take our clients through the city's architectural trophy case, including the Frank Gehry-designed Guggenheim Museum and structures by Norman Foster, Santiago Calatrava and other prominent architects. In La Rioja, one of Spain's most acclaimed wine regions, our clients sample tempranillos inside bodegas designed by Calatrava and Zaha Hadid, and stay in the luxurious Hotel Marques de Riscal, also designed by Gehry.

One of our most popular Spain tours is our Culinary & Art Tour of Spain.

Exclusive Ways to Experience Sumo in Japan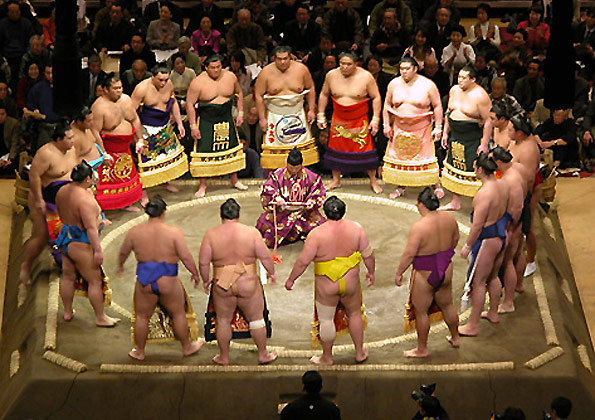 Watch a grand sumo tournament from ring-side seats
A sumo experience is one of the most popular of the many activities we arrange for travelers visiting Japan. We arrange tickets at grand sumo tournaments and, if desired, our excellent local guides can accompany our clients and explain sumo essentials such as the difference between an ozeki and a yokozuna, and why wrestlers throw salt in the ring before bouts.

We can also arrange for travelers to visit a private sumo stable or beya. Watching the rigorous daily training (keiko) is a fascinating way to see how sumo wrestlers maintain their strength, endurance, speed and flexibility.

For travelers who want the full sumo experience, we also schedule a lunch of hearty chanko nabe, a calorie and protein-packed stew of chicken, fish, liver, tofu, greens, etc., that—in conjunction with copious amounts of rice—helps sumo wrestlers maintain their energy and heft.

Insider's London
Our travel experts visit London several times each year and consider the city a second home. We use our expertise to create private tours that feature the residential neighborhoods, historic attractions and contemporary highlights that insiders and locals favor for their unique "London-ness."

A few of our favorite experiences? Walking through elegant neighborhoods such as Belgravia and Chelsea to visit the Victoria and Albert Museum and learn about the city's incredible history at places like the Chelsea Physic Garden; a tasting tour through Borough Market; learning about the architecture and design of magnificent St. Paul's Cathedral while standing under its massive dome; browsing the city's incredible antique shops and food halls; and taking families with young children to London's best playground (and yes, it is the best).


The fascinating and important Chelsea Physic Garden

Just Back: the Very Best of India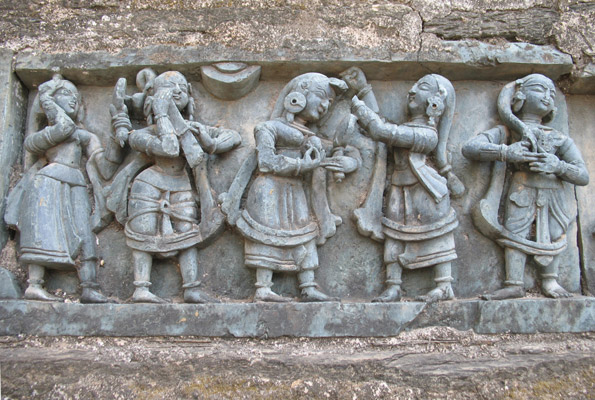 Our India tours focus on the most interesting cultural sights, from grand architecture to intricate details
We feel strongly that the way to tour India is to have private guides who can provide ongoing and in-depth cultural access, and to have a customized itinerary that carefully selects the very best of India's luxury hotels, including Oberoi resorts, Aman resorts and select heritage properties.

Leah, one of our travel experts, just returned from a wonderful journey through India to re-visit some of the locations and hotels we most recommend. She enjoyed a private tour of the Taj Mahal at sunrise, visiting small villages in Rajasthan, staying in a private pool suite at the extraordinary Amanbagh, touring exquisite forts and palaces, and exploring the most interesting backstreets of the markets of Old Delhi by rickshaw.

Our expert local guides helped Leah discover fantastic frescoes in a deserted palace outside Udaipur that's not open to the general public; understand the rich details in the stone-cut temples of Ellora and Ajanta; find the best cafe in Mumbai for dining on rich Parsi cuisine; and get the most out of the Portuguese-inflected architecture and food of Goa.

Leah also enjoyed staying at the just-opened Aman New Delhi. One of her favorite luxury hotels in India, the Aman's huge rooms, private plunge pools, understated elegance and views over the verdant landscaping surrounding the hotel made it a beautiful, relaxing oasis of quiet and calm.

Contact us to begin planning your own unforgettable India tour. Many travelers are also opting to combine India with nearby Bhutan or Dubai.


Leah in Delhi


Aman-i-Khas is one of our favorite resorts in Rajasthan

What's New in China

Inside the new Peninsula Shanghai

We're excited to be adding two new hotels to our luxury China tours. The Aman at the Summer Palace opened just a few months ago, and our clients are already enjoying its design and stunning setting inside the Summer Palace.

The Peninsula Shanghai is slated to open this autumn. With its Art Deco-inspired style, the hotel looks to be a beautiful addition to the Bund and will surely rank among China's finest.

Of course, we continue to rely on the Peninsula's landmark hotel in Hong Kong. With its impeccable service and stunning views, it never disappoints.

Our Blog for Sophisticated Travelers
Our blog is an invaluable source of travel inspiration. Our original articles, insider insights and interviews with tastemakers offer an exclusive window into the Artisans of Leisure experience and give our clients an idea of what they can expect when traveling with us in each country.

Recent articles include an introduction to the Japanese tea ceremony and an interview with Olga Polizzi of the Rocco Forte Collection. Stop by and see what's new: www.artisansofleisuretraveler.com


Sir Rocco Forte and Olga Polizzi