Luxury Travel Newsletter
December 2015
Contents


Print Version
Just Back: Budapest, Prague & Poland (slideshow)
Central Europe appeals to so many of our travelers because it offers rich historical touring, exquisite art and architecture, and excellent food and wine.

Artisans of Leisure travel specialist Leah Reilley just returned from Budapest, Prague and Poland, where she saw, ate and experienced the best that these destinations have to offer. Some of the highlights of her trip included shopping for Moser crystal in Prague, staying at the exquisite Four Seasons Hotel Gresham Palace Budapest, seeing beautiful interiors and architecture, eating roast goose in a small town near Prague, exploring markets and cafes in the Kazimierz neighborhood of Krakow, and enjoying Budapest's incredible gourmet dining scene.

We hope you enjoy this slideshow of these and other favorite moments from her trip.



Launch Central Europe slideshow

View our private tours in Hungary, Czech Republic, Poland and elsewhere in Central Europe, or contact an Artisans of Leisure travel expert to learn more.
The Best of Traditional Japan
Now is the perfect time to plan a 2016 trip to Japan, whether you'd like to experience cherry blossoms in spring, see brilliant fall foliage in late autumn, or enjoy summer's colorful festivals. Japan is a wonderful year-round destination that's great for first-time and repeat visitors alike.

Artisans of Leisure's in-house Japan experts have spent years living in Japan, and we continue to receive accolades and recognition by the press and leading guidebooks as the top luxury tour operator for Japan.

We arrange incredible, once-in-a-lifetime experiences that showcase the best of Japan's culture and traditions. Some examples include visiting craftspeople in their workshops, dining on shojin ryori (Buddhist vegetarian cuisine) at a temple, private tea ceremonies and cooking classes, tickets to traditional Japanese theater performances, behind-the-scenes tours of sumo stables, stays at top Japanese ryokan (traditional inns), exclusive private dinners with geisha and much more.

Some of our favorite Japan itineraries for traditional Japanese culture include:
View all of our private Japan tours or contact an Artisans of Leisure Japan travel specialist to start planning.
New for 2016: Arts & Crafts of Morocco
Seeing beautiful geometric tile mosaics, shopping for handicrafts and eating from authentic earthenware tagines are essential parts of visiting Morocco for most travelers. But learning the art of stucco and tilework from respected craftsmen, gaining unparalleled access to top design studios and spinning your own tagine with a master potter? These are just a few of the unique insider experiences that distinguish Artisans of Leisure's new Arts & Crafts of Morocco tour from typical Moroccan itineraries.

On all Artisans of Leisure tours in Morocco, travelers are accompanied throughout the country by an escort guide and private driver. The tour visits Casablanca, Fez, Rabat, the High Atlas Mountains, Essaouira and Marrakesh. It features activities such as hands-on calligraphy, pottery and tile workshops; visits to top weaving, metalware and other crafts studios; and insider tours of local souks (markets), galleries and boutiques. Accommodation each night is at Morocco's top luxury hotels and resorts, including Kasbah Tamadot in the High Atlas Mountains, Amanjena or La Mamounia in Marrakesh, and Four Seasons Hotel Casablanca.

Read more about the new Arts & Crafts of Morocco tour, or contact one of our Morocco experts to learn more.
Plan Now: Argentina
Argentina is a perfect destination for travelers who enjoy superb food, wine, scenery and luxury.

Our popular 11-day Classic Argentina tour features sophisticated Buenos Aires, awe-inspiring Iguazu Falls, top wineries in Mendoza and breathtaking landscapes in Patagonia.

For travelers short on time and wanting to stay at the country's most exclusive hotels and resorts, we recommend our 9-day Luxuries of Argentina tour, which visits Buenos Aires and Bariloche.

For those seeking a bit more adventure, our 12-day Essence of Argentina explores Buenos Aires, Iguazu Falls, and both El Calafate and Bariloche in Patagonia.

View Artisans of Leisure's private Argentina tours for more inspiration, and then contact us to start customizing an amazing Argentina adventure.
In the Press: Vogue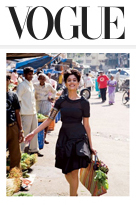 Vogue featured our Thailand for Foodies tour in their winter travel guide, calling Artisans of Leisure "one of the most trusted travel companies."

Read more: www.vogue.com

Thailand for Foodies features private cultural and culinary touring in Bangkok and Chiang Mai, including visits to local food markets, a street food tour of Bangkok, private cooking classes with expert chefs, visiting night markets, seeing royal palaces and Buddhist temples, visiting museums, and shopping for silk, ceramics, cooking utensils and more.

View our private culinary tours around the world.
Ultimate Australia (slideshow)
Australia is one of the most in-demand destinations at the moment, with luxurious hotels and resorts, diverse landscapes, world-class food and wine, and endless activities that appeal to travelers of all ages. Artisans of Leisure's private Australia tours feature the best of the best.

Enjoy this slideshow of some of the unforgettable experiences and exclusive hotels and resorts featured in our private Australia tours.



Launch Australia slideshow

View favorite Australia itineraries, or contact an Artisans of Leisure travel specialist to begin planning. We also combine Australia with nearby New Zealand.
On Our Blog: Peru, Tulum, Iceland
Be sure to check our blog regularly to read our latest insider travel articles and top travel recommendations.

Recent articles include:
Follow us on Facebook, Instagram and Twitter!




Private touring. Only the best hotels. Our world of expertise.