Company Background
Our Vision
Artisans of Leisure is a boutique tour operator founded to serve the needs of highly discerning travelers:
We specialize in what we know best: luxury travel with a cultural focus.

We are committed to creating the ultimate travel experience tailored to our clients' individual expectations and passions.

We are dedicated to providing an unparalleled level of service and destination knowledge, delivered with utmost attention to detail.
Artisans of Leisure believes passionately in the importance and power of travel as a way to learn about the world, strengthen international understanding and economies, preserve local traditions and cultivate oneself. We believe that luxury travelers will always look to experts to provide "insider" connections and experiences.
Artisans of Leisure currently offers private tours in many of the world's most enriching destinations, including Japan, China, Vietnam, Thailand, Cambodia, New Zealand, Australia, India, Bhutan, Morocco, Turkey, Poland, Austria, Hungary, the Czech Republic, Germany, Switzerland, Italy, France, England, Spain, Portugal, Greece, Israel, Turkey, Dubai, Lebanon, Egypt, Argentina, Peru, Chile, Botswana and South Africa.
In addition to private luxury tours with a cultural focus, Artisans of Leisure also specializes in educational and special-interest travel, including culinary tours, family tours (including family vacations, family heritage/genealogy tours, and Grandparent/Grandchildren tours), Jewish and religious heritage tours, art and architecture tours, photography tours, shopping tours, spa tours, Just-the-Girls tours, Travel with Friends tours, garden tours, soft adventure tours, private worldwide shore excursions, and one-of-a-kind honeymoons.
About the Founder & CEO
Artisans of Leisure was founded by Ashley Isaacs Ganz, a longtime member of the travel industry with a reputation for understanding the interests and requirements of sophisticated travelers.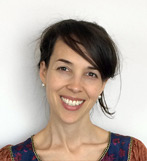 A Philadelphia native, Ganz graduated with High Honors from Hobart & William Smith Colleges. She then spent over a decade living and traveling internationally. She worked in Japan for two years under the Japanese Ministry of Education's JET program (and while there, created a photographic series inspired by wabi sabi, a Japanese Zen aesthetic). She's traveled from Papua New Guinea to Iceland and many remote countries in between. She has sought out renowned potters in distant corners of Japan; hiked Cradle Mountain in Tasmania; visited tribal markets in Yunnan, China; gone elephant trekking in the Golden Triangle; visited Christmas Markets throughout Europe; shopped for antique textiles in Burmese hill stations; witnessed spontaneous musical jam sessions in small town pubs in Ireland; compared goat cheeses and olive oils at outdoor markets in Provence; taken cooking classes in Thailand; explored archaeological sites in Sicily, Greece and Turkey; and searched for high quality Berber rugs in Moroccan souks.
Prior to founding Artisans of Leisure, Ganz held an executive travel industry position in New York City. While working in the travel industry, Ganz completed an MA in sociology and historical studies at the New School for Social Research in New York City then completed PhD coursework at the London School of Economics (LSE). After several years at LSE working on her thesis—a sociological study of the history of luxury travel—Ganz decided to devote her full-time efforts to creating a tangible venue that would significantly enhance and redefine the future of luxury travel. The result is Artisans of Leisure.
Ashley Isaacs Ganz is a noted travel industry leader and is frequently interviewed by the consumer and trade media as an expert on the luxury market. She's an advisor to various tourist boards and tourism suppliers, and is an active member of many cultural, civic, social and professional organizations and societies in the U.S. and abroad. She lives in Manhattan with her husband and sons.
The Artisans of Leisure staff is comprised of highly accomplished, enthusiastic travel experts who have lived all over the world and traveled extensively. Their interests and expertise include art, architecture, design, cuisine, fashion, photography, music, foreign languages, history, international relations and more.