Best of Paris
(5 Days)
Discover Normandy
(6 Days)
D-Day Beaches, Mont Saint-Michel, Pays d'Auge, Honfleur & Deauville, Giverny
Luxuries of France
(11 Days)
Paris, Provence, Cote d'Azur
Best of Normandy & Paris
(9 Days)
D-Day Beaches, Mont Saint-Michel, Honfleur & Deauville, Giverny, Paris & Versailles
Highlights of Provence
(7 Days)
Avignon & Arles, Luberon Valley, Aix-en-Provence
Essence of France
(10 Days)
Loire Valley, Normandy & Mont Saint-Michel, Paris & Versailles
Family Tour of France
(12 Days)
Normandy, Paris & Versailles, Provence, Cote d'Azur
Provence & the French Riviera
(7 Days)
Luberon Valley, Cote d'Azur
Paris, Chateaux & Wine
(9 Days)
Paris & Versailles, Loire Valley, Bordeaux & St. Emilion
France In Style
(13 Days)
Paris & Versailles or Giverny, Luberon Valley, Aix-en-Provence, Cote d'Azur
Romantic France
(12 Days)
Paris & Versailles, Beaujolais, Provence, Cote d'Azur
Art Tour of France
(10 Days)
Paris & Versailles, Provence, Cote d'Azur
Biking in France
(9 Days)
Paris & Versailles, Loire Valley, Bordeaux
Journey Through France
(20 Days)
Paris, Normandy, Loire Valley, Bordeaux, Dordogne, Carcassonne, Provence, Cote d'Azur
Garden Tour of France
(8 Days)
Versailles, Loire Valley, Paris & Giverny
France for Foodies
(12 Days)
Paris, Beaujolais & Lyon, Avignon, Luberon Valley, Cote d'Azur
Paris, Burgundy & Champagne
(8 Days)
Paris, Dijon, Beaune, Reims & environs
France in Depth
(19 Days)
Normandy, Paris & Versailles, Champagne, Burgundy, Beaujolais, Provence, Cote d'Azur
Multi-country Tours
Family Tour of London, Paris & Rome
(10 Days)
London, Paris, Rome
Bordeaux to the Basque Country
(9 days)
Bordeaux, Biarritz, San Sebastian with Rioja & Bilbao
Paris & Morocco
(9 Days)
Paris, Atlas Mountains, Marrakesh
London & Paris
(9 Days)
Paris & Beirut
(8 Days )
Paris, Beirut, Byblos, Beiteddine Palace, Baalbek
Food & Wine of France & Switzerland
(12 Days)
Paris, Champagne, Burgundy, Beaujolais & Lyon, Lausanne & Gruyeres
Paris to Barcelona
(11 Days)
Paris, Provence, Carcassonne & Costa Brava, Barcelona
Brussels, Amsterdam & Paris
(10 Days)
Brussels & Bruges, Amsterdam, Paris
France & Italy: Best of the Riviera
(7 Days)
Cote d'Azur, Portofino & Cinque Terre
Food & Wine of France & Switzerland
(12 Days - Departs Daily on a Private Basis)
Paris, Champagne, Burgundy, Beaujolais & Lyon, Lausanne & Gruyeres
This is the ultimate private culinary tour of France and Switzerland. It features private touring and tasting in some of the world's most important wine regions, visits to local food markets and specialty food purveyors, reservations at top restaurants serving authentic regional cuisine, in-depth cultural touring in each destination, and spectacular accommodations, including a palace hotel in Paris, historic chateau in Beaujolais and luxury resort on Lake Geneva.
Begin with three nights in Paris. With your sophisticated expert guide, enjoy a private culinary tour of the city according to your interests. Experience epicurean delights at local markets, pastry shops, cheese shops, chocolate stores, tea salons and more. Shop for specialty kitchen utensils, fine tableware and upscale table linens at leading French retailers. One day, take a private lesson in either French baking or French cooking with an expert instructor. Also enjoy private touring of top cultural attractions according to your interests, such as the Eiffel Tower, the Louvre Museum, Notre Dame Cathedral and more. In the evenings, reservations will be made for you at favorite neighborhood bistros, refined brasseries and fine-dining restaurants serving traditional French haute cuisine and innovative contemporary gastronomy.
Next, visit the Champagne wine region and spend at a magnificent manor surrounded by parkland in the heart of Reims, an ancient city with Roman roots. During touring along the Route du Champagne, visit top local wineries to tour cellars and sample wines. Also visit highlights of Reims such as Notre-Dame Cathedral, a masterpiece of Gothic Art and a UNESCO World Heritage Site, and see Art Deco architecture throughout town.
Continue to Burgundy, and stay in charming Beaune, the capital of the Burgundy wine country. Enjoy a private tour of the Burgundy wine route through the Cote d'Or vineyards, visiting local cellars to sample the best of Bourgogne. Also, explore the well-preserved medieval center of Beaune, browse the local market, and perhaps purchase renowned local wines such as Chambertin, Romanee-Conti and Montrachet. Time permitting, also visit Dijon, famous for its mustard and other fine culinary offerings.
Next, transfer to the Beaujolais wine region just outside Lyon. Stay at a spectacular restored 13th-century castle filled with antique furniture, wall paintings and Gothic fireplaces. In the afternoon, enjoy a private tour of the surrounding vineyards, wine cellars, and ancient villages. One day, enjoy a private excursion to Lyon, the gastronomic capital of France, to explore local culinary traditions, see cultural highlights such as Roman ruins, churches and museums, and perhaps dine at one of the country's best restaurants.
Continue to Lausanne—Switzerland's gourmet paradise—for two nights at the elegant Beau-Rivage Palace, a luxurious resort hotel set in lush parkland on the shore of Lake Geneva. During private touring, visit the Lavaux wine region, a beautiful UNESCO World Heritage Site of 800-year-old terraced vineyards that skirt the edge of Lake Geneva and offer dramatic views of the Alps. Meet winemakers at local wineries, sample Chasselas and other delicious local varietals in Lavauxcellars, and perhaps enjoy a gourmet meal at one of the finest restaurants in Switzerland. Also, tour Chateau de Chillon, a well-preserved castle on a small island in the lake that offers evocative insights into the daily life of medieval aristocracy. Alternatively, take a private excursion to the atmospheric hill town of Gruyeres to visit a local cheese maker to learn about and taste the region's renowned Gruyere cheese, and perhaps visit the nearby factory of one of Switzerland's premier chocolatiers.
Itinerary Overview
Day 1

Arrive Paris, France

Private transfer to hotel for 3 nights

Day 2

Paris

Private half-day culinary tour

Day 3

Paris

Private half-day flexible tour

Day 4

Paris – Champagne wine region

Private excursion to tour Reims and wine cellars. Overnight in Champagne

Day 5

Champagne – Burgundy

Private transfer to hotel for 2 nights with touring en route

Day 6

Burgundy wine route

Private touring and wine tasting

Day 7

Burgundy – Beaujolais

Private transfer to chateau hotel for 2 nights with touring en route

Day 8

Beaujolais & Lyon

Private food and wine touring in Lyon and Beaujolais

Day 9

Beaujolais – Lausanne, Switzerland

Private transfer to resort hotel for 3 nights

Day 10

Lausanne & wine region

Private excursion to Chateau de Chillon and Lavaux wine region

Day 11

Lausanne & Gruyeres

Private excursion to Gruyeres

Day 12

Depart Geneva

Private airport transfer
Hotels
| | |
| --- | --- |
| Paris: | The Ritz Paris or Four Seasons George V |
| Champagne: | Les Crayeres |
| Burgundy: | Chateau de Vault de Lugny |
| Beaujolais: | Chateau de Bagnols |
| Lausanne: | Beau-Rivage Palace |
Cost
| | |
| --- | --- |
| $22,640 | Per person (double occupancy) |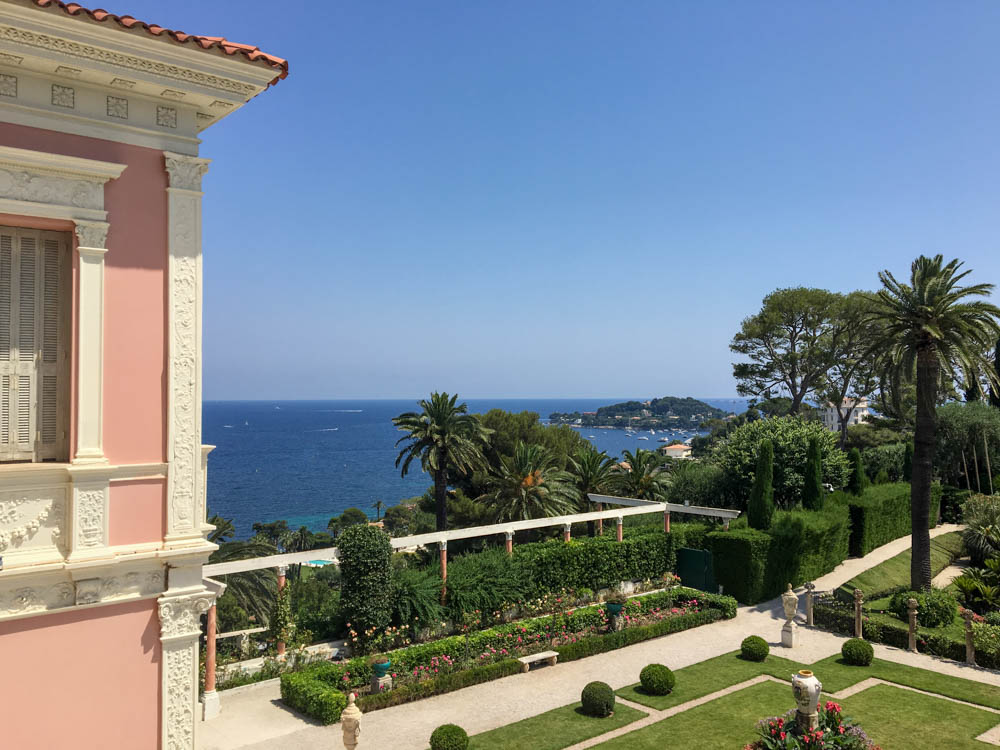 Best of Paris
(5 Days)
Discover Normandy
(6 Days)
D-Day Beaches, Mont Saint-Michel, Pays d'Auge, Honfleur & Deauville, Giverny
Luxuries of France
(11 Days)
Paris, Provence, Cote d'Azur
Best of Normandy & Paris
(9 Days)
D-Day Beaches, Mont Saint-Michel, Honfleur & Deauville, Giverny, Paris & Versailles
Highlights of Provence
(7 Days)
Avignon & Arles, Luberon Valley, Aix-en-Provence
Essence of France
(10 Days)
Loire Valley, Normandy & Mont Saint-Michel, Paris & Versailles
Family Tour of France
(12 Days)
Normandy, Paris & Versailles, Provence, Cote d'Azur
Provence & the French Riviera
(7 Days)
Luberon Valley, Cote d'Azur
Paris, Chateaux & Wine
(9 Days)
Paris & Versailles, Loire Valley, Bordeaux & St. Emilion
France In Style
(13 Days)
Paris & Versailles or Giverny, Luberon Valley, Aix-en-Provence, Cote d'Azur
Romantic France
(12 Days)
Paris & Versailles, Beaujolais, Provence, Cote d'Azur
Art Tour of France
(10 Days)
Paris & Versailles, Provence, Cote d'Azur
Biking in France
(9 Days)
Paris & Versailles, Loire Valley, Bordeaux
Journey Through France
(20 Days)
Paris, Normandy, Loire Valley, Bordeaux, Dordogne, Carcassonne, Provence, Cote d'Azur
Garden Tour of France
(8 Days)
Versailles, Loire Valley, Paris & Giverny
France for Foodies
(12 Days)
Paris, Beaujolais & Lyon, Avignon, Luberon Valley, Cote d'Azur
Paris, Burgundy & Champagne
(8 Days)
Paris, Dijon, Beaune, Reims & environs
France in Depth
(19 Days)
Normandy, Paris & Versailles, Champagne, Burgundy, Beaujolais, Provence, Cote d'Azur
Multi-country Tours
Family Tour of London, Paris & Rome
(10 Days)
London, Paris, Rome
Bordeaux to the Basque Country
(9 days)
Bordeaux, Biarritz, San Sebastian with Rioja & Bilbao
Paris & Morocco
(9 Days)
Paris, Atlas Mountains, Marrakesh
London & Paris
(9 Days)
Paris & Beirut
(8 Days )
Paris, Beirut, Byblos, Beiteddine Palace, Baalbek
Food & Wine of France & Switzerland
(12 Days)
Paris, Champagne, Burgundy, Beaujolais & Lyon, Lausanne & Gruyeres
Paris to Barcelona
(11 Days)
Paris, Provence, Carcassonne & Costa Brava, Barcelona
Brussels, Amsterdam & Paris
(10 Days)
Brussels & Bruges, Amsterdam, Paris
France & Italy: Best of the Riviera
(7 Days)
Cote d'Azur, Portofino & Cinque Terre
Our France tour was one of the best trips ever. Our guide and driver were superb. My Artisans of Leisure consultant is the queen of travel plans!
~ A.D., Hollis, NH
Wow! Artisans of Leisure has done it again! We experienced another sensational tour in France. Our accommodations were wonderful…I know it's not just our good luck that we got upgraded. We can't express our gratitude enough for the planning process, cooperation and the excellent implementation. We are huge fans!
~ M.G., Calgary, Canada
My clients' Artisans of Leisure France tour is the talk of the town! Everything was absolutely perfect…it was the trip of a lifetime. I cannot recommend ANY travel planners or executors of travel plans more highly than Artisans of Leisure. You have extensive knowledge AND know-how.
~C.R. (travel agent), Nantucket, MA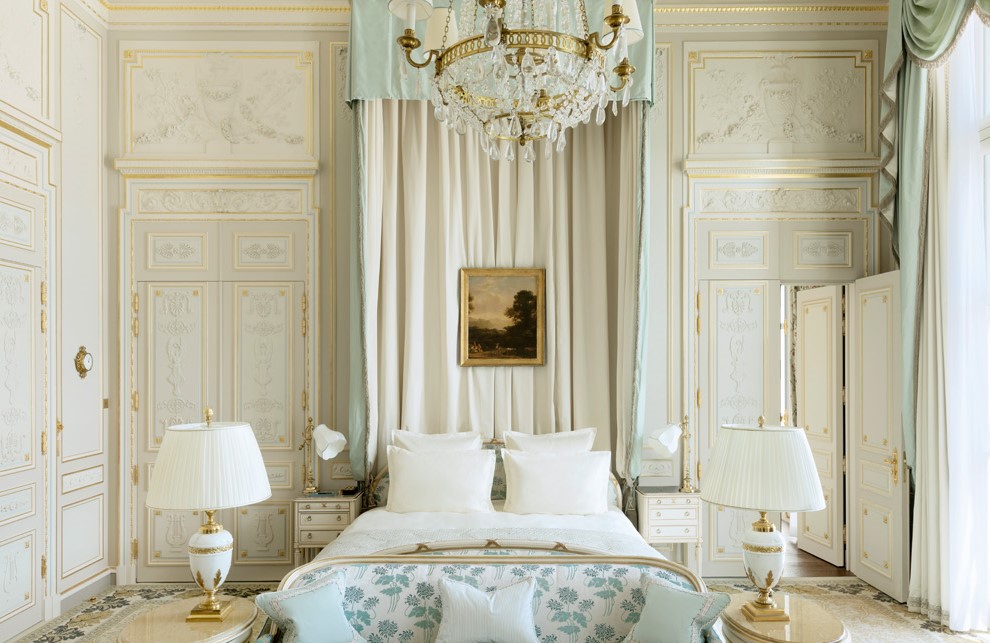 Recommended by:
Departures
Conde Nast Traveler
The New York Times
Wall Street Journal
Travel + Leisure
Town & Country
France Map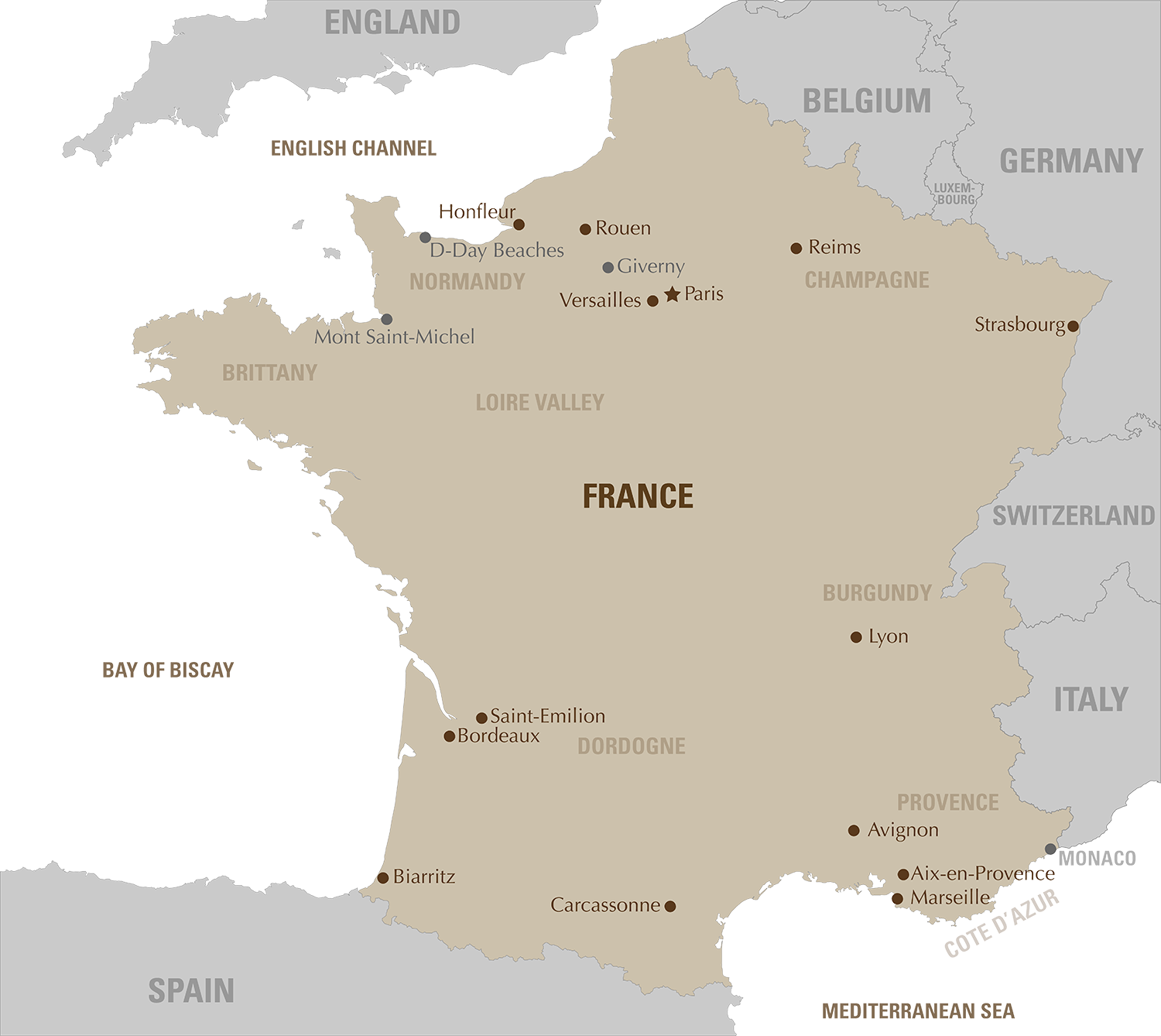 Must Visit: La Colombe d'Or in Saint-Paul de Vence, France
Just Back: The Best of Paris, Provence & the Cote d'Azur
Exclusive Access to Chateau de Vaux-le-Vicomte in France