Best of Morocco
(10 Days)
Fez, Sahara Desert, Skoura & Ouarzazate, Marrakesh
Introduction to Morocco
(10 Days)
Casablanca, Fez, Marrakesh, Atlas Mountains
Journey Through Morocco
(12 Days)
Fez, Sahara Desert, Skoura & Ouarzazate, Atlas Mountains, Marrakesh
Exclusive Marrakesh
(5 Days)
Marrakesh & environs
A Week in Morocco
(7 Days)
Fez, Marrakesh
Essence of Morocco
(9 Days)
Fez, Atlas Mountains, Marrakesh
Luxury Adventure Tour of Morocco
(9 Days)
Fez, Sahara Desert, Atlas Mountains, Marrakesh
Ryads of Morocco
(10 Days)
Fez, Marrakesh, Essaouira
Luxuries of Morocco
(9 Days)
Marrakesh, Skoura & Ouarzazate, Atlas Mountains
Morocco in Depth
(13 Days)
Casablanca, Chefchaouen, Fez, Volubilis & Meknes, Rabat, Atlas Mountains, Marrakesh & Essaouira
Ultimate Morocco
(15 Days)
Casablanca, Tangier, Chefchaouen, Fez, Atlas Mountains, Marrakesh
Northern Morocco
(10 days)
Casablanca, Rabat, Tangier, Chefchaouen, Fez
Family Tour of Morocco
(8 Days)
Marrakesh, Atlas Mountains
Romantic Morocco
(7 Days)
Atlas Mountains, Marrakesh
Morocco for Foodies
(10 Days)
Fez, Marrakesh
Jewish Tour of Morocco
(9 Days)
Casablanca, Meknes, Fez, Rabat, Marrakesh, Essaouira
Arts & Crafts of Morocco
(13 Days)
Casablanca, Fez, Rabat, Atlas Mountains, Essaouira, Marrakesh
Multi-country Tours
Best of Spain & Morocco
(11 Days)
Madrid, Barcelona, Atlas Mountains, Marrakesh
Southern Spain & Morocco
(15 Days)
Seville, Marbella, Tangier, Fez, Marrakesh & Atlas Mountains
Paris & Morocco
(9 Days)
Paris, Atlas Mountains, Marrakesh
Highlights of Israel & Morocco
(15 Days)
Jerusalem & Dead Sea, Tel Aviv, Casablanca, Fez, Atlas Mountains, Marrakesh
Highlights of Morocco & Portugal
(14 Days)
Fez, Atlas Mountains, Marrakesh, Lisbon & Sintra, Porto & Douro Valley
Spain, Morocco & Portugal
(17 Days)
Barcelona, Granada, Seville & Cordoba, Madrid, Marrakesh, Atlas Mountains, Lisbon
Highlights of Egypt & Morocco
(14 Days)
Cairo & the Pyramids, Abu Simbel, luxury Nile River cruise, Atlas Mountains, Marrakesh
Southern Spain & Morocco
(15 Days - Departs Daily on a Private Basis)
Seville, Marbella, Tangier, Fez, Marrakesh & Atlas Mountains
This private tour offers a taste of the best of southern Spain and Morocco, both known for great weather, beautiful landscapes, wonderful food, impressive UNESCO World Heritage sites, rich cultural traditions and wonderful luxury hotels decorated in the most evocative local style. This tour is also an ideal introduction for more extensive travel to other destinations throughout Spain and Morocco.
Begin in Seville, the capital of Andalusia. Enjoy an insider's tour of this beautiful city flavored as much by the sounds of flamenco and the smell of orange blossoms as by its 500-year domination by the Moors. Visit the world's largest Gothic cathedral (which contains the tomb of Christopher Columbus), explore the charming Santa Cruz neighborhood, and tour the gardens, spectacular Mudejar-style architecture, carved stuccowork and tile-covered rooms of the Real Alcazar, a Moorish palace. See additional architectural highlights such as the Plaza de España, the modern Metropol Parasol, and other historic palaces filled with azulejo tiles and decorative arts. Also, browse specialty boutiques and markets. One evening, enjoy a private tasting tour of some of Seville's most beloved tapas bars and attend a flamenco performance. If desired, additional activities can be arranged in Seville, including visits to ceramics workshops in the Triana neighborhood, carriage rides through Maria Luisa Park, private flamenco dance or guitar lessons, architecture tours of World Expo buildings, learning about Semana Santa (Holy Week) culture at the Basilica of La Macarena and excursions to nearby Roman ruins, pueblos blancos (whitewashed villages) or a bull ranch.
Continue to an upscale waterfront resort in Marbella, a fashionable beach town on the sun-drenched Costa del Sol. One morning, enjoy a private excursion to Ronda, a renowned whitewashed village built on the edges of a dramatic gorge. Enjoy an afternoon at leisure at the resort, or opt to book additional private touring, such as private yacht charters, a visit to the Cueva de la Pileta to see ancient rock art, guided hiking or biking in beautiful national parks, a private cooking class or a visit to the Picasso Museum and other cultural highlights in Malaga.
Next, board the ferry to cross the Strait of Gibraltar to Tangier, Morocco. During private touring with your guide and driver, explore the history and culture of this seaside port, an international melting pot that has attracted creative people such as writer Paul Bowles and artists Henri Matisse and Eugene Delacroix over the years. Walk through the park-like Grand Socco public square, and get a taste of local life while browsing for local crafts in the busy medina. Perhaps enjoy a freshly squeezed orange juice in Petit Socco plaza or at a rooftop cafe. See interesting Art Deco and Moorish architecture, and visit cultural institutions such as the Kasbah Museum and the American Legation Museum, the first building owned by the nascent United States outside its borders. Other touring options include visiting the 19th-century Moshe Nahon Synagogue, the Galerie Delacroix art gallery or the Musee d'Art Contemporain de Tanger.
Next, transfer to Fez. En route, tour Chefchaouen, a picturesque town nestled in the Rif Mountains. During private touring, explore the rambling medina (old town), where streets, doors and buildings are painted in brilliant blues. Continue to Fez, the intellectual and religious heart of Morocco. During private touring, explore Fez el-Bali ("Old Fez") and its medieval medina, a UNESCO World Heritage Site crammed with narrow streets, tiny squares and busy workshops. See centuries-old mosques and universities, as well as the open-air tanneries. If desired, also visit studios where artisans create traditional carpets, copperware, leatherwork, ceramics and zellij tilework. Also tour Fez el-Djedid ("New Fez") to see the Royal Palace and explore themellah, the largest Jewish quarter in Morocco. If desired, spend a day touring major Roman ruins atVolubilis and the former imperial capital of Meknes, both UNESCO World Heritage Sites.
Continue to Marrakesh, a beautiful city of pink buildings, bustling souks (markets), and upscale shops and restaurants. During private touring, explore exquisite Moorish gardens and architectural highlights such as Jardin Majorelle, the Saadian Tombs and the Bahia Palace. See important historic monuments and districts, including the Jewish quarter, Koutoubia Mosque, and Ali ben Youssef Mosque and Madrassa. Also visit museums such as Dar Si Said Museum of Moroccan Arts, the Palmeraie Museum and the Yves Saint Laurent Museum. Take an insider tour of the massive souks where shops offer local products such as Berber carpets, lanterns, trays, tilework, argan oil, and Moroccan slippers. Also visit the spice souks, which are stocked with locally harvested saffron, cumin and other ingredients. Also explore Djemaa el-Fna, the city's lively main square. Relax with a glass of Moroccan mint tea at one of our favorite spots, and enjoy reservations at elegant restaurants in restored ryads (guesthouses). If desired, visit the best boutiques and galleries in Gueliz and other parts of Marrakesh. One day, take a private excursion to the Atlas Mountains. One evening, enjoy an exclusive excursion into the nearby Agafay Desert for a sunset camel ride, traditional Berber entertainment, and a private candlelit dinner under the stars. During private touring, enjoy activities such as village visits, hiking, a tour of a local Berber market, and visits to local craft cooperatives.
Itinerary Overview
Day 1
Arrive Seville, Spain
Private arrival transfer to hotel for 3 nights
Day 2
Seville
Half-day private walking tour
Day 3
Seville
Half-day private city tour
Day 4
Seville – Marbella
Private transfer to resort for 2 nights
Day 5
Marbella & Ronda
Full-day private excursion
Day 6
Marbella – Tangier, Morocco
Private transfer to port for ferry to Tangier. Private arrival transfer to hotel for 2 nights
Day 7
Tangier
Full-day private city tour
Day 8
Tangier – Chefchaouen – Fez
Private transfer to Fez for 3 nights, with touring in Chefchaouen en route
Day 9
Fez
Full-day private city tour
Day 10
Fez & environs
Continue private city touring, or private excursion to Meknes and Volubilis
Day 11
Fez – Marrakesh
Private transfer to Marrakesh for 4 nights. Evening visit to Djemaa el-Fna
Day 12
Marrakesh
Full-day private tour. Evening private dinner excursion to Desert d'Agafay
Day 13
Marrakesh & Atlas Mountains
Full-day private excursion
Day 14
Marrakesh
Half-day private tour
Day 15
Depart Morocco
Private transfer to Casablanca or Marrakesh airport
Hotels
| | |
| --- | --- |
| Seville: | Hotel Alfonso XIII |
| Marbella: | Marbella Club or Finca Cortesin |
| Tangier: | Villa Josephine or Hotel Nord-Pinus |
| Fez: | Riad Fes |
| Marrakesh: | La Mamounia, Amanjena, Royal Mansour or The Oberoi Marrakech |
Cost
| | |
| --- | --- |
| $22,100 | Per person (double occupancy) |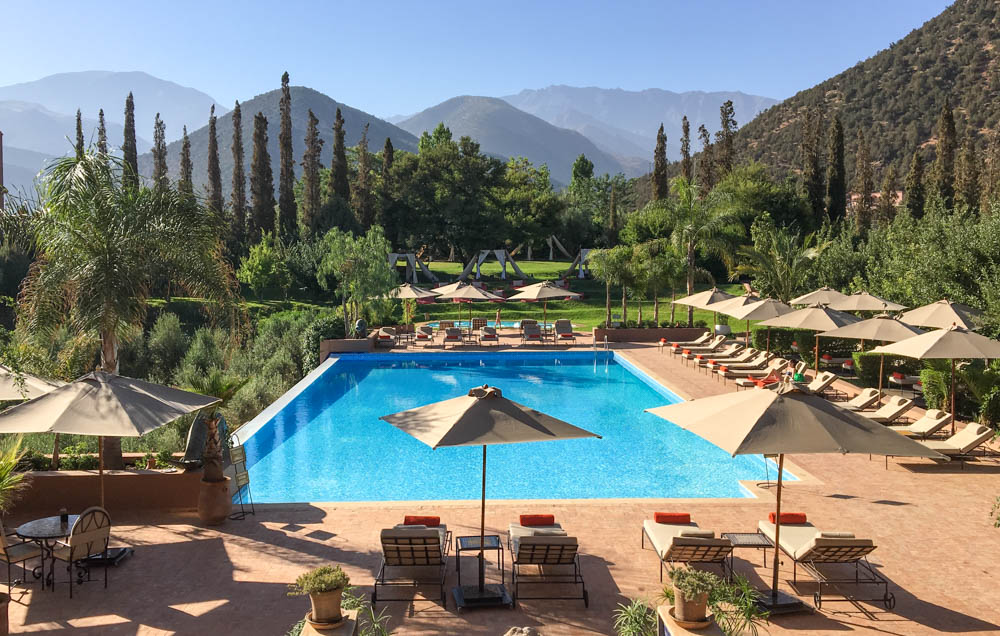 Best of Morocco
(10 Days)
Fez, Sahara Desert, Skoura & Ouarzazate, Marrakesh
Introduction to Morocco
(10 Days)
Casablanca, Fez, Marrakesh, Atlas Mountains
Journey Through Morocco
(12 Days)
Fez, Sahara Desert, Skoura & Ouarzazate, Atlas Mountains, Marrakesh
Exclusive Marrakesh
(5 Days)
Marrakesh & environs
A Week in Morocco
(7 Days)
Fez, Marrakesh
Essence of Morocco
(9 Days)
Fez, Atlas Mountains, Marrakesh
Luxury Adventure Tour of Morocco
(9 Days)
Fez, Sahara Desert, Atlas Mountains, Marrakesh
Ryads of Morocco
(10 Days)
Fez, Marrakesh, Essaouira
Luxuries of Morocco
(9 Days)
Marrakesh, Skoura & Ouarzazate, Atlas Mountains
Morocco in Depth
(13 Days)
Casablanca, Chefchaouen, Fez, Volubilis & Meknes, Rabat, Atlas Mountains, Marrakesh & Essaouira
Ultimate Morocco
(15 Days)
Casablanca, Tangier, Chefchaouen, Fez, Atlas Mountains, Marrakesh
Northern Morocco
(10 days)
Casablanca, Rabat, Tangier, Chefchaouen, Fez
Family Tour of Morocco
(8 Days)
Marrakesh, Atlas Mountains
Romantic Morocco
(7 Days)
Atlas Mountains, Marrakesh
Morocco for Foodies
(10 Days)
Fez, Marrakesh
Jewish Tour of Morocco
(9 Days)
Casablanca, Meknes, Fez, Rabat, Marrakesh, Essaouira
Arts & Crafts of Morocco
(13 Days)
Casablanca, Fez, Rabat, Atlas Mountains, Essaouira, Marrakesh
Multi-country Tours
Best of Spain & Morocco
(11 Days)
Madrid, Barcelona, Atlas Mountains, Marrakesh
Southern Spain & Morocco
(15 Days)
Seville, Marbella, Tangier, Fez, Marrakesh & Atlas Mountains
Paris & Morocco
(9 Days)
Paris, Atlas Mountains, Marrakesh
Highlights of Israel & Morocco
(15 Days)
Jerusalem & Dead Sea, Tel Aviv, Casablanca, Fez, Atlas Mountains, Marrakesh
Highlights of Morocco & Portugal
(14 Days)
Fez, Atlas Mountains, Marrakesh, Lisbon & Sintra, Porto & Douro Valley
Spain, Morocco & Portugal
(17 Days)
Barcelona, Granada, Seville & Cordoba, Madrid, Marrakesh, Atlas Mountains, Lisbon
Highlights of Egypt & Morocco
(14 Days)
Cairo & the Pyramids, Abu Simbel, luxury Nile River cruise, Atlas Mountains, Marrakesh
Thank you for such an amazing Morocco trip, we really loved it. We learned a lot and we saw things most tourists don't see. We loved the meetings you set up for us and the accommodations were fantastic. 
~ A.N., Haverford, PA
Morocco was outstanding. This was the best family vacation we have ever had. We loved the pace of travel, the variety of locations, and the very knowledgeable guide. The hotels were all excellent…a flawless experience.
~ G.G., Newtown Square, PA
Our Morocco trip was excellent. The guide was beyond expectations and our driver was excellent. Artisans of Leisure is the greatest. You are the very best.
~ P.Y., Beverly Hills, CA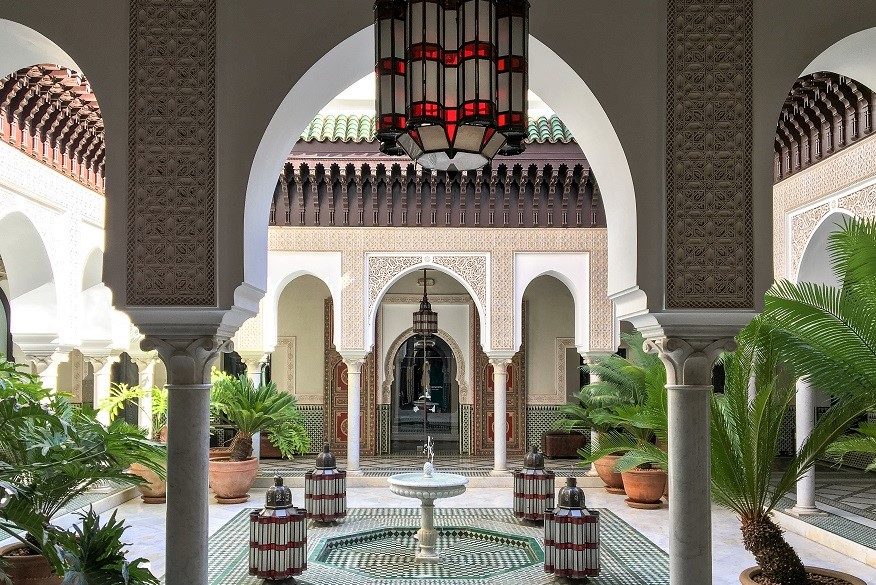 Recommended by:
Departures
Conde Nast Traveler
The New York Times
Wall Street Journal
Travel + Leisure
Town & Country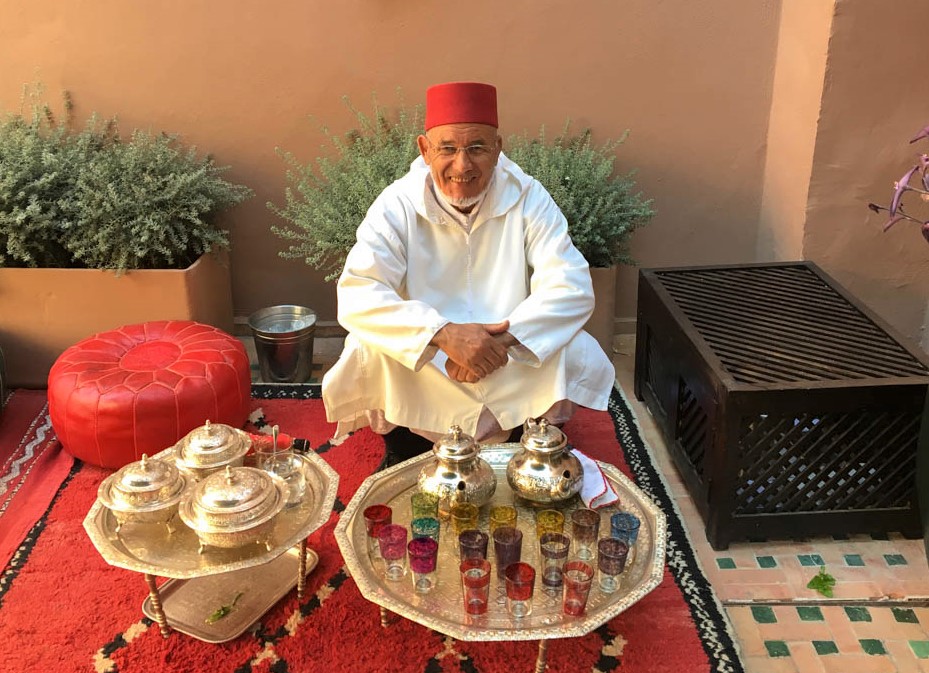 Top 10 Favorite Travel Experiences in Morocco
Just Back: The Best of Marrakesh, Morocco
Interview with Mike Korn: Conde Nast Traveler's Top Morocco Specialist
Exclusive Private Dinner in the Agafay Desert
Private Jewish Heritage Touring in Morocco
Insider Marrakesh & Atlas Mountains
Just Back: Luxury, Culture, Adventure, Jewish History, Design & More in Morocco
The Beautiful Gardens of Marrakesh
Volubilis: An Ancient Roman City Outside Fez, Morocco
Off-the-Beaten-Track Morocco: Beautiful Chefchaouen
Insider Rabat: Morocco's Beautiful Coastal Capital