Vietnam for Foodies
(11 Days)
Hanoi, Hue, Hoi An, Saigon
Food & Wine Tour of Italy
(11 Days)
Piedmont, Bologna & Emilia-Romagna, Tuscany & Florence
Flavors of Southeast Asia
(16 Days)
Singapore, Saigon, Hoi An, Hanoi, Chiang Mai, Bangkok
Food & Wine of Spain
(8 Days)
Madrid & Segovia, Ribera del Duero, San Sebastian with Rioja & Bilbao
Culinary Tour of Mexico
(10 Days)
Oaxaca, Puebla, Mexico City
Food & Wine Tour of Lebanon
(7 Days)
Beirut, Sidon, Tyre, Chouf Mountains, Baalbek, Byblos, Batroun
Culinary Tour of China
(13 Days)
Beijing & Great Wall, Xian, Hangzhou, Shanghai, Hong Kong
Food & Wine of Austria
(7 Days)
Vienna & environs (the Wachau, Burgenland)
Culinary Tour of Japan
(12 Days)
Tokyo, Kanazawa, Yamanaka Onsen, Kyoto
Food & Wine of Australia
(12 Days)
Melbourne, Yarra Valley, Mornington Peninsula, Barossa, Adelaide, McLaren Vale, Margaret River, Perth
Thailand for Foodies
(7 Days)
Bangkok, Chiang Mai
Food & Wine of France & Switzerland
(12 Days)
Paris, Champagne, Burgundy, Beaujolais & Lyon, Lausanne & Gruyeres
Wine Tour of Hungary
(6 Days)
Eger-Tokaj Wine Region, Budapest
Food & Wine of Portugal
(9 Days)
Porto, Douro Valley, Lisbon & environs
Culinary Tour of Greece and Turkey
(10 Days)
Athens, Crete, Istanbul
Culinary Tour of Sicily
(8 Days)
Palermo & Monreale, Trapani, Marsala, Sciacca, Agrigento, Noto, Modica, Taormina, Mount Etna
Culture, Crafts & Cuisine of Ireland
(13 Days)
Dublin, Ballyfin, Ballymaloe, Killarney, Adare, Ashford Castle
Culinary Tour of Peru
(9 Days)
Lima, Sacred Valley, Machu Picchu, Cusco
Morocco for Foodies
(10 Days)
Fez, Marrakesh
Culinary Tour of Israel
(7 Days)
Jerusalem, Tel Aviv
France for Foodies
(12 Days)
Paris, Beaujolais & Lyon, Avignon, Luberon Valley, Cote d'Azur
Singapore for Foodies
(4 Days)
Culinary Tour of India
(13 Days)
Delhi, Udaipur, Mumbai, Chennai
Culinary Tour of South Korea
(5 Days)
Seoul & Jeonju
Best of Piedmont
(5 Days)
The Ultimate Wine Tour: Argentina & Chile
(12 Days)
Colchagua Valley, Santiago & Valparaiso, Mendoza, Buenos Aires
Whisky Tour of Scotland
(12 Days)
Edinburgh, Oban & Islay, Isle of Skye, Ross (Glenmorangie House), Speyside & Aberdeenshire, Perthshire (Gleneagles)
Food & Wine Tour of the Basque Country & Portugal
(14 days)
Bilbao, Biarritz, San Sebastian, Rioja, Ribera del Duero, Douro Valley, Porto, Lisbon
Singapore for Foodies
(4 Days - Departs Daily on a Private Basis)
This exclusive private Singapore tour features the top culinary experiences in one of the most exciting food destinations in Asia, as well as the cultural and historical highlights of the island nation.
During private touring, experience Singapore's unique heritage in interesting historical neighborhoods, discover the cultural influences of Singaporean cuisine in markets and spice gardens, and sample typical dishes at hawker centers, authentic local eateries and sophisticated restaurants.
Visit Little India, Tiong Bahru, Chinatown, Kampong Glam and other dynamic neighborhoods. Browse bustling local markets, and visit the most interesting Chinese and Hindu temples.
Explore amazing contemporary architecture and design highlights such as the Marina Bay Sands complex and Gardens by the Bay, a wonderland of theme gardens, waterways and "supertrees." Also see British colonial-era buildings in the Historic District.


Gain a unique perspective on Singapore's multifaceted Peranakan cuisine during a food-focused walking tour through the Joo Chiat/Katong neighborhood. Also experience the beautiful Singapore Botanic Gardens, including its remarkable National Orchid Garden.


Enjoy a privately guided tour of the Fort Canning Spice Garden to learn how spices such as nutmeg, clove and mace are grown and used. Also visit the National Gallery Singapore, stroll among the shops and restaurants inside the historical shophouses on Clarke Quay, and enjoy reservations for Asian-influenced afternoon tea at the legendary Raffles Hotel and meals at top restaurants around the city.


Additional culinary experiences and activities can be arranged upon request.
This tour can be fully customized or extended to include other popular destinations in Asia such as Indonesia, Thailand, Vietnam and Bhutan.
Itinerary Overview
Day 1
Arrive Singapore


Private arrival transfer to hotel for 3 nights. Reservation for afternoon tea

Day 2
Singapore


Full-day private cultural and culinary touring

Day 3
Singapore


Full-day private cultural and culinary touring

Day 4
Depart Singapore
Private airport transfer
Hotels
| | |
| --- | --- |
| Singapore: | Raffles Hotel Singapore, Marina Bay Sands or Fullerton Bay |
Cost
| | |
| --- | --- |
| $5,095 | Per person (double occupancy) |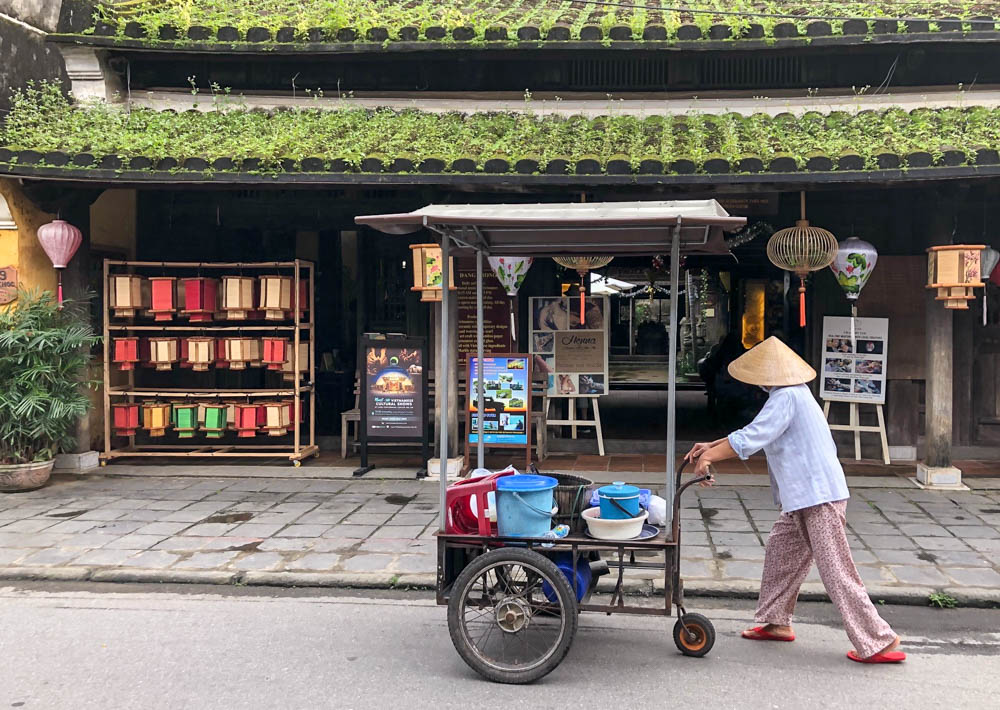 Vietnam for Foodies
(11 Days)
Hanoi, Hue, Hoi An, Saigon
Food & Wine Tour of Italy
(11 Days)
Piedmont, Bologna & Emilia-Romagna, Tuscany & Florence
Flavors of Southeast Asia
(16 Days)
Singapore, Saigon, Hoi An, Hanoi, Chiang Mai, Bangkok
Food & Wine of Spain
(8 Days)
Madrid & Segovia, Ribera del Duero, San Sebastian with Rioja & Bilbao
Culinary Tour of Mexico
(10 Days)
Oaxaca, Puebla, Mexico City
Food & Wine Tour of Lebanon
(7 Days)
Beirut, Sidon, Tyre, Chouf Mountains, Baalbek, Byblos, Batroun
Culinary Tour of China
(13 Days)
Beijing & Great Wall, Xian, Hangzhou, Shanghai, Hong Kong
Food & Wine of Austria
(7 Days)
Vienna & environs (the Wachau, Burgenland)
Culinary Tour of Japan
(12 Days)
Tokyo, Kanazawa, Yamanaka Onsen, Kyoto
Food & Wine of Australia
(12 Days)
Melbourne, Yarra Valley, Mornington Peninsula, Barossa, Adelaide, McLaren Vale, Margaret River, Perth
Thailand for Foodies
(7 Days)
Bangkok, Chiang Mai
Food & Wine of France & Switzerland
(12 Days)
Paris, Champagne, Burgundy, Beaujolais & Lyon, Lausanne & Gruyeres
Wine Tour of Hungary
(6 Days)
Eger-Tokaj Wine Region, Budapest
Food & Wine of Portugal
(9 Days)
Porto, Douro Valley, Lisbon & environs
Culinary Tour of Greece and Turkey
(10 Days)
Athens, Crete, Istanbul
Culinary Tour of Sicily
(8 Days)
Palermo & Monreale, Trapani, Marsala, Sciacca, Agrigento, Noto, Modica, Taormina, Mount Etna
Culture, Crafts & Cuisine of Ireland
(13 Days)
Dublin, Ballyfin, Ballymaloe, Killarney, Adare, Ashford Castle
Culinary Tour of Peru
(9 Days)
Lima, Sacred Valley, Machu Picchu, Cusco
Morocco for Foodies
(10 Days)
Fez, Marrakesh
Culinary Tour of Israel
(7 Days)
Jerusalem, Tel Aviv
France for Foodies
(12 Days)
Paris, Beaujolais & Lyon, Avignon, Luberon Valley, Cote d'Azur
Singapore for Foodies
(4 Days)
Culinary Tour of India
(13 Days)
Delhi, Udaipur, Mumbai, Chennai
Culinary Tour of South Korea
(5 Days)
Seoul & Jeonju
Best of Piedmont
(5 Days)
The Ultimate Wine Tour: Argentina & Chile
(12 Days)
Colchagua Valley, Santiago & Valparaiso, Mendoza, Buenos Aires
Whisky Tour of Scotland
(12 Days)
Edinburgh, Oban & Islay, Isle of Skye, Ross (Glenmorangie House), Speyside & Aberdeenshire, Perthshire (Gleneagles)
Food & Wine Tour of the Basque Country & Portugal
(14 days)
Bilbao, Biarritz, San Sebastian, Rioja, Ribera del Duero, Douro Valley, Porto, Lisbon
We absolutely LOVED India in every way! The cookery lesson and lunch in Udaipur was great…the lunch was delicious, the house was lovely and they were so warm and welcoming. 
~ R.L., Washington, D.C.
Japan was excellent—we all had a blast. Your attention to detail and your ability to be foodie-focused and find outstanding guides sets you apart.
~ R.S., St. Petersburg, FL
One of the highlights of the trip to Bali was the cooking class you arranged in Ubud. Our instructor was the owner of the restaurant and they were so accommodating to our tastes and created a menu just for us. 
~ T.J., Norfolk, VA
Recommended by:
Departures
Conde Nast Traveler
The New York Times
Wall Street Journal
Travel + Leisure
Town & Country
Wine and Truffles in Piedmont, Italy
Touring Toyoso and Tsukiji Markets in Tokyo
Street Food at Singapore's Hawker Centers