Vietnam for Foodies
(11 Days)
Hanoi, Hue, Hoi An, Saigon
Food & Wine Tour of Italy
(11 Days)
Piedmont, Bologna & Emilia-Romagna, Tuscany & Florence
Flavors of Southeast Asia
(16 Days)
Singapore, Saigon, Hoi An, Hanoi, Chiang Mai, Bangkok
Food & Wine of Spain
(8 Days)
Madrid & Segovia, Ribera del Duero, San Sebastian with Rioja & Bilbao
Culinary Tour of Mexico
(10 Days)
Oaxaca, Puebla, Mexico City
Food & Wine Tour of Lebanon
(7 Days)
Beirut, Sidon, Tyre, Chouf Mountains, Baalbek, Byblos, Batroun
Culinary Tour of China
(13 Days)
Beijing & Great Wall, Xian, Hangzhou, Shanghai, Hong Kong
Food & Wine of Austria
(7 Days)
Vienna & environs (the Wachau, Burgenland)
Culinary Tour of Japan
(12 Days)
Tokyo, Kanazawa, Yamanaka Onsen, Kyoto
Food & Wine of Australia
(12 Days)
Melbourne, Yarra Valley, Mornington Peninsula, Barossa, Adelaide, McLaren Vale, Margaret River, Perth
Thailand for Foodies
(7 Days)
Bangkok, Chiang Mai
Food & Wine of France & Switzerland
(12 Days)
Paris, Champagne, Burgundy, Beaujolais & Lyon, Lausanne & Gruyeres
Wine Tour of Hungary
(6 Days)
Eger-Tokaj Wine Region, Budapest
Food & Wine of Portugal
(9 Days)
Porto, Douro Valley, Lisbon & environs
Culinary Tour of Greece and Turkey
(10 Days)
Athens, Crete, Istanbul
Culinary Tour of Sicily
(8 Days)
Palermo & Monreale, Trapani, Marsala, Sciacca, Agrigento, Noto, Modica, Taormina, Mount Etna
Culture, Crafts & Cuisine of Ireland
(13 Days)
Dublin, Ballyfin, Ballymaloe, Killarney, Adare, Ashford Castle
Culinary Tour of Peru
(9 Days)
Lima, Sacred Valley, Machu Picchu, Cusco
Morocco for Foodies
(10 Days)
Fez, Marrakesh
Culinary Tour of Israel
(7 Days)
Jerusalem, Tel Aviv
France for Foodies
(12 Days)
Paris, Beaujolais & Lyon, Avignon, Luberon Valley, Cote d'Azur
Singapore for Foodies
(4 Days)
Culinary Tour of India
(13 Days)
Delhi, Udaipur, Mumbai, Chennai
Culinary Tour of South Korea
(5 Days)
Seoul & Jeonju
Best of Piedmont
(5 Days)
The Ultimate Wine Tour: Argentina & Chile
(12 Days)
Colchagua Valley, Santiago & Valparaiso, Mendoza, Buenos Aires
Whisky Tour of Scotland
(12 Days)
Edinburgh, Oban & Islay, Isle of Skye, Ross (Glenmorangie House), Speyside & Aberdeenshire, Perthshire (Gleneagles)
Food & Wine Tour of the Basque Country & Portugal
(14 days)
Bilbao, Biarritz, San Sebastian, Rioja, Ribera del Duero, Douro Valley, Porto, Lisbon
Culinary Tour of Israel
(7 Days - Departs Daily on a Private Basis)
Jerusalem, Tel Aviv
This private culinary tour is the perfect way to learn about Israel's rich and diverse cultural heritage. It includes private visits to food markets, a private cooking class with a local chef, wine tasting, special meals, private cultural touring and more.
Upon arrival, enjoy VIP airport assistance before being transferred to Jerusalem. Built entirely from white stone, Jerusalem glows and changes from white to pink to rose to gold with the changing of the light. Your expert private guide will bring the beautiful city and its incredible, multi-layered history alive. Of immeasurable religious, historic and archaeological importance, the entire Old City is a UNESCO World Heritage Site. Visit the Temple Mount, the Church of the Holy Sepulchre, the Via Dolorosa and the Western Wall, including the excavation tunnels under the Western Wall. Explore the narrow streets, twisting alleyways and airy plazas, ancient synagogues and churches, and bazaars and boutiques of the Old City's Jewish, Christian, Muslim and Armenian quarters. Enjoy hummus tastings through the backstreets of the Old City, and visit a small factory that makes tahini. See the Mount of Olives, Mount Zion and walk upon the old city ramparts. Visit Jerusalem's most important museums, such as the Yad Vashem Holocaust History Museum and the Israel Museum to see the Dead Sea Scrolls. Perhaps also see the Chagall Windows at Hadassah Hospital.
One day, enjoy a tour of the Machane Yehuda Market with a local chef. Sample local culinary specialties such as burekas (flaky filled pastries), chocolate rugelach and halvah and shop for regional staples such as tahini, za'atar, dried fruits and nuts. Also gather ingredients for a private cooking class and lunch. Another day, enjoy a lunch (or Shabbat dinner) at a local home and learn about the cultural significance of challah.
If desired, we can arrange many special interest activities around Jerusalem, such as touring the ancient City of David, joining an archaeological dig, walking through the city's ancient underground water tunnels, specialized shopping or exclusive meetings with local religious experts, geo-political experts, chefs, artists, fashion designers, winery owners or even former Israeli operatives.
Next, stop at a local winery to sample Israeli wines, and visit the small farm of a renowned goat cheese maker. Alternatively, visit the Israeli-Arab village of Abu Gosh to sample some of Israel's best hummus.
Conclude in Tel Aviv, a vibrant city on the Mediterranean Sea coast. During private touring, experience the best of Israel's largest city: the Neve Tzedek neighborhood, UNESCO-listed Bauhaus architecture, Old Jaffa and museums such as the Tel Aviv Museum of Art, the Design Museum Holon and Beit Hatfutsot: Museum of the Jewish People in Tel Aviv. Explore the city's best food markets, such as the Carmel or Levinsky markets, and enjoy a privately-guided tasting tour with a local culinary expert. If desired, we can also arrange an excursion to the fascinating Ayalon Institute, a kibbutz that hid a secret underground ammunition factory. Additional options in Tel Aviv include specialized shopping, strolling the port district or fashionable HaTachana or visiting the Roman ruins of Caesarea. During free time, perhaps spend time on the beach, shop in the city's markets and leisure districts and enjoy the city's excellent restaurants.
This tour can easily be extended with other destinations in Israel or other countries.
Itinerary Overview
Day 1
Arrive Tel Aviv – Jerusalem


VIP airport assistance. Private arrival transfer to hotel for 3 nights

Day 2
Jerusalem


Full-day private culinary and cultural tour, including market tasting tour and cooking class

Day 3
Jerusalem


Full-day private tour, including lunch (or Shabbat dinner) at a local home

Day 4
Jerusalem – Tel Aviv


Private transfer to Tel Aviv for 3 nights, with hummus tasting, cheese making or winery visit en route

Day 5
Tel Aviv


Full-day private culinary and cultural touring

Day 6
Tel Aviv


Morning private market tour with culinary expert. Afternoon at leisure

Day 7
Depart Tel Aviv
Private airport transfer. VIP departure assistance
Hotels
| | |
| --- | --- |
| Jerusalem: | The King David Hotel or Waldorf Astoria Jerusalem |
| Tel Aviv: | The Norman or The Jaffa |
Cost
| | |
| --- | --- |
| $13,370 | Per person (double occupancy) |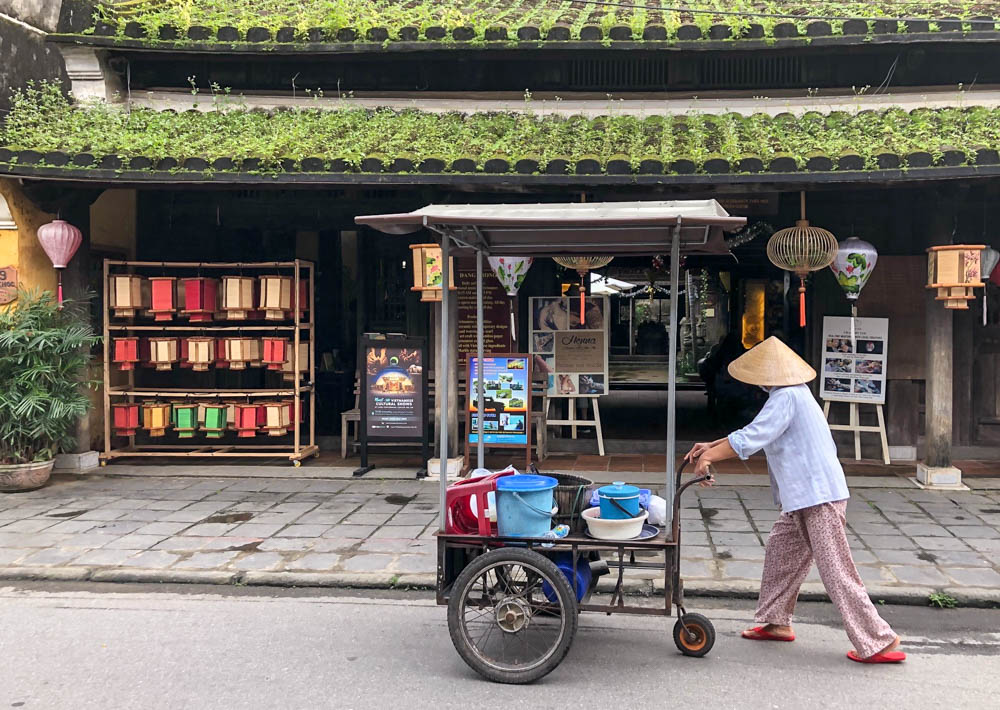 Vietnam for Foodies
(11 Days)
Hanoi, Hue, Hoi An, Saigon
Food & Wine Tour of Italy
(11 Days)
Piedmont, Bologna & Emilia-Romagna, Tuscany & Florence
Flavors of Southeast Asia
(16 Days)
Singapore, Saigon, Hoi An, Hanoi, Chiang Mai, Bangkok
Food & Wine of Spain
(8 Days)
Madrid & Segovia, Ribera del Duero, San Sebastian with Rioja & Bilbao
Culinary Tour of Mexico
(10 Days)
Oaxaca, Puebla, Mexico City
Food & Wine Tour of Lebanon
(7 Days)
Beirut, Sidon, Tyre, Chouf Mountains, Baalbek, Byblos, Batroun
Culinary Tour of China
(13 Days)
Beijing & Great Wall, Xian, Hangzhou, Shanghai, Hong Kong
Food & Wine of Austria
(7 Days)
Vienna & environs (the Wachau, Burgenland)
Culinary Tour of Japan
(12 Days)
Tokyo, Kanazawa, Yamanaka Onsen, Kyoto
Food & Wine of Australia
(12 Days)
Melbourne, Yarra Valley, Mornington Peninsula, Barossa, Adelaide, McLaren Vale, Margaret River, Perth
Thailand for Foodies
(7 Days)
Bangkok, Chiang Mai
Food & Wine of France & Switzerland
(12 Days)
Paris, Champagne, Burgundy, Beaujolais & Lyon, Lausanne & Gruyeres
Wine Tour of Hungary
(6 Days)
Eger-Tokaj Wine Region, Budapest
Food & Wine of Portugal
(9 Days)
Porto, Douro Valley, Lisbon & environs
Culinary Tour of Greece and Turkey
(10 Days)
Athens, Crete, Istanbul
Culinary Tour of Sicily
(8 Days)
Palermo & Monreale, Trapani, Marsala, Sciacca, Agrigento, Noto, Modica, Taormina, Mount Etna
Culture, Crafts & Cuisine of Ireland
(13 Days)
Dublin, Ballyfin, Ballymaloe, Killarney, Adare, Ashford Castle
Culinary Tour of Peru
(9 Days)
Lima, Sacred Valley, Machu Picchu, Cusco
Morocco for Foodies
(10 Days)
Fez, Marrakesh
Culinary Tour of Israel
(7 Days)
Jerusalem, Tel Aviv
France for Foodies
(12 Days)
Paris, Beaujolais & Lyon, Avignon, Luberon Valley, Cote d'Azur
Singapore for Foodies
(4 Days)
Culinary Tour of India
(13 Days)
Delhi, Udaipur, Mumbai, Chennai
Culinary Tour of South Korea
(5 Days)
Seoul & Jeonju
Best of Piedmont
(5 Days)
The Ultimate Wine Tour: Argentina & Chile
(12 Days)
Colchagua Valley, Santiago & Valparaiso, Mendoza, Buenos Aires
Whisky Tour of Scotland
(12 Days)
Edinburgh, Oban & Islay, Isle of Skye, Ross (Glenmorangie House), Speyside & Aberdeenshire, Perthshire (Gleneagles)
Food & Wine Tour of the Basque Country & Portugal
(14 days)
Bilbao, Biarritz, San Sebastian, Rioja, Ribera del Duero, Douro Valley, Porto, Lisbon
We absolutely LOVED India in every way! The cookery lesson and lunch in Udaipur was great…the lunch was delicious, the house was lovely and they were so warm and welcoming. 
~ R.L., Washington, D.C.
Japan was excellent—we all had a blast. Your attention to detail and your ability to be foodie-focused and find outstanding guides sets you apart.
~ R.S., St. Petersburg, FL
One of the highlights of the trip to Bali was the cooking class you arranged in Ubud. Our instructor was the owner of the restaurant and they were so accommodating to our tastes and created a menu just for us. 
~ T.J., Norfolk, VA
Recommended by:
Departures
Conde Nast Traveler
The New York Times
Wall Street Journal
Travel + Leisure
Town & Country
Wine and Truffles in Piedmont, Italy
Touring Toyoso and Tsukiji Markets in Tokyo
Street Food at Singapore's Hawker Centers