Vietnam for Foodies
(11 Days)
Hanoi, Hue, Hoi An, Saigon
Food & Wine Tour of Italy
(11 Days)
Piedmont, Bologna & Emilia-Romagna, Tuscany & Florence
Flavors of Southeast Asia
(16 Days)
Singapore, Saigon, Hoi An, Hanoi, Chiang Mai, Bangkok
Food & Wine of Spain
(8 Days)
Madrid & Segovia, Ribera del Duero, San Sebastian with Rioja & Bilbao
Culinary Tour of Mexico
(10 Days)
Oaxaca, Puebla, Mexico City
Food & Wine Tour of Lebanon
(7 Days)
Beirut, Sidon, Tyre, Chouf Mountains, Baalbek, Byblos, Batroun
Culinary Tour of China
(13 Days)
Beijing & Great Wall, Xian, Hangzhou, Shanghai, Hong Kong
Food & Wine of Austria
(7 Days)
Vienna & environs (the Wachau, Burgenland)
Culinary Tour of Japan
(12 Days)
Tokyo, Kanazawa, Yamanaka Onsen, Kyoto
Food & Wine of Australia
(12 Days)
Melbourne, Yarra Valley, Mornington Peninsula, Barossa, Adelaide, McLaren Vale, Margaret River, Perth
Thailand for Foodies
(7 Days)
Bangkok, Chiang Mai
Food & Wine of France & Switzerland
(12 Days)
Paris, Champagne, Burgundy, Beaujolais & Lyon, Lausanne & Gruyeres
Wine Tour of Hungary
(6 Days)
Eger-Tokaj Wine Region, Budapest
Food & Wine of Portugal
(9 Days)
Porto, Douro Valley, Lisbon & environs
Culinary Tour of Greece and Turkey
(10 Days)
Athens, Crete, Istanbul
Culinary Tour of Sicily
(8 Days)
Palermo & Monreale, Trapani, Marsala, Sciacca, Agrigento, Noto, Modica, Taormina, Mount Etna
Culture, Crafts & Cuisine of Ireland
(13 Days)
Dublin, Ballyfin, Ballymaloe, Killarney, Adare, Ashford Castle
Culinary Tour of Peru
(9 Days)
Lima, Sacred Valley, Machu Picchu, Cusco
Morocco for Foodies
(10 Days)
Fez, Marrakesh
Culinary Tour of Israel
(7 Days)
Jerusalem, Tel Aviv
France for Foodies
(12 Days)
Paris, Beaujolais & Lyon, Avignon, Luberon Valley, Cote d'Azur
Singapore for Foodies
(4 Days)
Culinary Tour of India
(13 Days)
Delhi, Udaipur, Mumbai, Chennai
Culinary Tour of South Korea
(5 Days)
Seoul & Jeonju
Best of Piedmont
(5 Days)
The Ultimate Wine Tour: Argentina & Chile
(12 Days)
Colchagua Valley, Santiago & Valparaiso, Mendoza, Buenos Aires
Whisky Tour of Scotland
(12 Days)
Edinburgh, Oban & Islay, Isle of Skye, Ross (Glenmorangie House), Speyside & Aberdeenshire, Perthshire (Gleneagles)
Food & Wine Tour of the Basque Country & Portugal
(14 days)
Bilbao, Biarritz, San Sebastian, Rioja, Ribera del Duero, Douro Valley, Porto, Lisbon
The Ultimate Wine Tour: Argentina & Chile
(12 Days - Departs Daily on a Private Basis)
Colchagua Valley, Santiago & Valparaiso, Mendoza, Buenos Aires
This tour is the ultimate journey through Argentina and Chile, designed especially for wine lovers.

Begin in the Colchagua Valley wine region of Chile, a picturesque valley covered in greenery and surrounded by steep hills. This area is home to many of Chile's top red wines—malbec, cabernet, carmenere and syrah in particular thrive. Spend two nights amidst the beautiful vineyards of the Casa Lapostolle winery in the exclusive Lapostolle Residence, and enjoy private touring of the region's most interesting cultural attractions and visits to top wineries.

Next, transfer to Santiago, one of our favorite cities in South America with its breathtaking location framed by the Andes mountains. The city offers wonderful museums, colorful colonial architecture, appealing day trips, and delicious food and wine. Tour the city's highlights with your own private guide who will provide an insider's perspective on the city's most recommended attractions, neighborhoods and activities, including La Chascona (Pablo Neruda's house), the Chilean Museum of Pre-Columbian Art, our favorite neighborhoods filled with beautiful colonial architecture and well-preserved residences formerly occupied by Santiago's aristocracy, bustling markets and exclusive shops, and much more. One day, take an excursion to Valparaiso, one of the most unique cities in South America and a UNESCO World Heritage site. Explore the steep, labyrinthine streets of the most interesting and colorful cerros (hills), visit one of Valparaiso's notable museums, and perhaps take one of the many funicular elevators that the city is famous for. If desired, also enjoy wine tasting at a top winery in the Casablanca Valley, one of Chile's prominent wine-growing regions.

Fly to Mendoza, Argentina, one of the world's most notable wine regions. During private touring, visit the most interesting and upscale local wineries, and sample Malbec, Torrontes and other locally produced wines. Also enjoy a private cooking class focused on regional culinary specialties. Mendoza also has some of the best restaurants in Argentina, and there will be opportunities to dine at acclaimed restaurants on the grounds of vineyard estates.

End in vibrant Buenos Aires. With your own private guide and driver, visit the city's most evocative neighborhoods such as San Telmo, La Boca, Palermo and Puerto Madero, and see highlights around the city such as the Plaza de Mayo, Casa Rosada and Recoleta Cemetery. Visit local museums according to your interests, such as the Evita Museum or MALBA, a museum of Latin American art. One evening, attend a top-rated tango performance at an intimate, upscale dinner theater. If desired, take a private excursion to San Antonio de Areco and an estancia in the pampas to learn about gaucho culture and experience the traditional estancia lifestyle. Alternatively, take a private excursion to Tigre and the Parana River Delta to enjoy a relaxing private cruise on the canals of this "rural Venice," passing gardens and upscale vacation houses. Also enjoy time to take advantage of the exciting contemporary art and design scene, world-class restaurants and great shopping. All touring is flexible and can be customized to incorporate special interests such as art, tango, polo, Jewish history, family activities, adventure, gastronomy and more.
Itinerary Overview
Day 1
Arrive Santiago, Chile – Colchagua Valley
Arrival private transfer to vineyard hotel for 2 nights
Day 2
Colchagua Valley
Full-day private touring and winery visits
Day 3
Colchagua Valley – Santiago
Morning at leisure. Afternoon private transfer to Santiago for 3-night stay
Day 4
Santiago
Full-day private city tour
Day 5
Santiago & Valparaiso
Full-day private excursion to Valparaiso, including option for winery visit en route
Day 6
Santiago – Mendoza, Argentina
Private transfer to airport for flight to Mendoza (flight not included). Private arrival transfer to hotel for 3 nights
Day 7
Mendoza
Full-day private tour of vineyards
Day 8
Mendoza
Full-day private tour, including cooking class with wine pairings
Day 9
Mendoza –Buenos Aires
Private transfer to airport for flight (not included in cost) to Buenos Aires. Private arrival transfer to hotel for 3 nights
Day 10
Buenos Aires
Full-day private tour. Evening dinner tango performance, including transfers
Day 11
Buenos Aires & environs
Private excursion to the Pampas or Tigre and the Parana Delta
Day 12
Depart Buenos Aires
Private airport transfer
Hotels
| | |
| --- | --- |
| Colchagua Valley: | Lapostolle Residence |
| Santiago: | The Singular Santiago or Ritz-Carlton Santiago |
| Mendoza: | The Vines Resort & Spa or Cavas Wine Lodge |
| Buenos Aires: | Four Seasons or Park Hyatt Palacio Duhau |
Cost
| | |
| --- | --- |
| $15,250 | Per person (double occupancy) |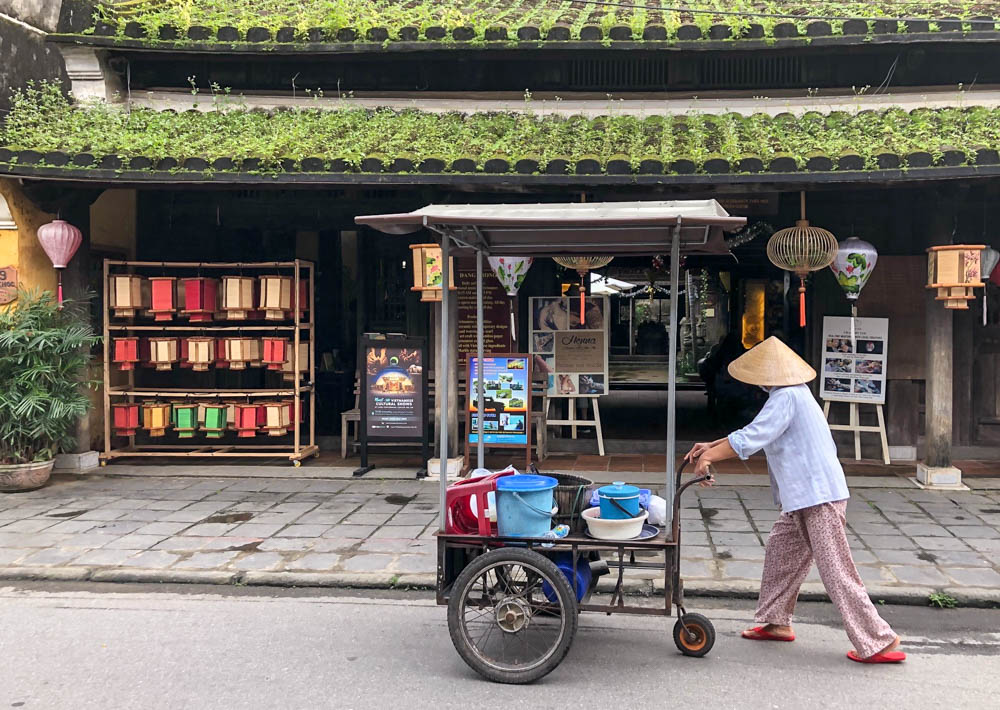 Vietnam for Foodies
(11 Days)
Hanoi, Hue, Hoi An, Saigon
Food & Wine Tour of Italy
(11 Days)
Piedmont, Bologna & Emilia-Romagna, Tuscany & Florence
Flavors of Southeast Asia
(16 Days)
Singapore, Saigon, Hoi An, Hanoi, Chiang Mai, Bangkok
Food & Wine of Spain
(8 Days)
Madrid & Segovia, Ribera del Duero, San Sebastian with Rioja & Bilbao
Culinary Tour of Mexico
(10 Days)
Oaxaca, Puebla, Mexico City
Food & Wine Tour of Lebanon
(7 Days)
Beirut, Sidon, Tyre, Chouf Mountains, Baalbek, Byblos, Batroun
Culinary Tour of China
(13 Days)
Beijing & Great Wall, Xian, Hangzhou, Shanghai, Hong Kong
Food & Wine of Austria
(7 Days)
Vienna & environs (the Wachau, Burgenland)
Culinary Tour of Japan
(12 Days)
Tokyo, Kanazawa, Yamanaka Onsen, Kyoto
Food & Wine of Australia
(12 Days)
Melbourne, Yarra Valley, Mornington Peninsula, Barossa, Adelaide, McLaren Vale, Margaret River, Perth
Thailand for Foodies
(7 Days)
Bangkok, Chiang Mai
Food & Wine of France & Switzerland
(12 Days)
Paris, Champagne, Burgundy, Beaujolais & Lyon, Lausanne & Gruyeres
Wine Tour of Hungary
(6 Days)
Eger-Tokaj Wine Region, Budapest
Food & Wine of Portugal
(9 Days)
Porto, Douro Valley, Lisbon & environs
Culinary Tour of Greece and Turkey
(10 Days)
Athens, Crete, Istanbul
Culinary Tour of Sicily
(8 Days)
Palermo & Monreale, Trapani, Marsala, Sciacca, Agrigento, Noto, Modica, Taormina, Mount Etna
Culture, Crafts & Cuisine of Ireland
(13 Days)
Dublin, Ballyfin, Ballymaloe, Killarney, Adare, Ashford Castle
Culinary Tour of Peru
(9 Days)
Lima, Sacred Valley, Machu Picchu, Cusco
Morocco for Foodies
(10 Days)
Fez, Marrakesh
Culinary Tour of Israel
(7 Days)
Jerusalem, Tel Aviv
France for Foodies
(12 Days)
Paris, Beaujolais & Lyon, Avignon, Luberon Valley, Cote d'Azur
Singapore for Foodies
(4 Days)
Culinary Tour of India
(13 Days)
Delhi, Udaipur, Mumbai, Chennai
Culinary Tour of South Korea
(5 Days)
Seoul & Jeonju
Best of Piedmont
(5 Days)
The Ultimate Wine Tour: Argentina & Chile
(12 Days)
Colchagua Valley, Santiago & Valparaiso, Mendoza, Buenos Aires
Whisky Tour of Scotland
(12 Days)
Edinburgh, Oban & Islay, Isle of Skye, Ross (Glenmorangie House), Speyside & Aberdeenshire, Perthshire (Gleneagles)
Food & Wine Tour of the Basque Country & Portugal
(14 days)
Bilbao, Biarritz, San Sebastian, Rioja, Ribera del Duero, Douro Valley, Porto, Lisbon
We absolutely LOVED India in every way! The cookery lesson and lunch in Udaipur was great…the lunch was delicious, the house was lovely and they were so warm and welcoming. 
~ R.L., Washington, D.C.
Japan was excellent—we all had a blast. Your attention to detail and your ability to be foodie-focused and find outstanding guides sets you apart.
~ R.S., St. Petersburg, FL
One of the highlights of the trip to Bali was the cooking class you arranged in Ubud. Our instructor was the owner of the restaurant and they were so accommodating to our tastes and created a menu just for us. 
~ T.J., Norfolk, VA
Recommended by:
Departures
Conde Nast Traveler
The New York Times
Wall Street Journal
Travel + Leisure
Town & Country
Wine and Truffles in Piedmont, Italy
Touring Toyoso and Tsukiji Markets in Tokyo
Street Food at Singapore's Hawker Centers