Vietnam for Foodies
(11 Days)
Hanoi, Hue, Hoi An, Saigon
Food & Wine Tour of Italy
(11 Days)
Piedmont, Bologna & Emilia-Romagna, Tuscany & Florence
Flavors of Southeast Asia
(16 Days)
Singapore, Saigon, Hoi An, Hanoi, Chiang Mai, Bangkok
Food & Wine of Spain
(8 Days)
Madrid & Segovia, Ribera del Duero, San Sebastian with Rioja & Bilbao
Culinary Tour of Mexico
(10 Days)
Oaxaca, Puebla, Mexico City
Food & Wine Tour of Lebanon
(7 Days)
Beirut, Sidon, Tyre, Chouf Mountains, Baalbek, Byblos, Batroun
Culinary Tour of China
(13 Days)
Beijing & Great Wall, Xian, Hangzhou, Shanghai, Hong Kong
Food & Wine of Austria
(7 Days)
Vienna & environs (the Wachau, Burgenland)
Culinary Tour of Japan
(12 Days)
Tokyo, Kanazawa, Yamanaka Onsen, Kyoto
Food & Wine of Australia
(12 Days)
Melbourne, Yarra Valley, Mornington Peninsula, Barossa, Adelaide, McLaren Vale, Margaret River, Perth
Thailand for Foodies
(7 Days)
Bangkok, Chiang Mai
Food & Wine of France & Switzerland
(12 Days)
Paris, Champagne, Burgundy, Beaujolais & Lyon, Lausanne & Gruyeres
Wine Tour of Hungary
(6 Days)
Eger-Tokaj Wine Region, Budapest
Food & Wine of Portugal
(9 Days)
Porto, Douro Valley, Lisbon & environs
Culinary Tour of Greece and Turkey
(10 Days)
Athens, Crete, Istanbul
Culinary Tour of Sicily
(8 Days)
Palermo & Monreale, Trapani, Marsala, Sciacca, Agrigento, Noto, Modica, Taormina, Mount Etna
Culture, Crafts & Cuisine of Ireland
(13 Days)
Dublin, Ballyfin, Ballymaloe, Killarney, Adare, Ashford Castle
Culinary Tour of Peru
(9 Days)
Lima, Sacred Valley, Machu Picchu, Cusco
Morocco for Foodies
(10 Days)
Fez, Marrakesh
Culinary Tour of Israel
(7 Days)
Jerusalem, Tel Aviv
France for Foodies
(12 Days)
Paris, Beaujolais & Lyon, Avignon, Luberon Valley, Cote d'Azur
Singapore for Foodies
(4 Days)
Culinary Tour of India
(13 Days)
Delhi, Udaipur, Mumbai, Chennai
Culinary Tour of South Korea
(5 Days)
Seoul & Jeonju
Best of Piedmont
(5 Days)
The Ultimate Wine Tour: Argentina & Chile
(12 Days)
Colchagua Valley, Santiago & Valparaiso, Mendoza, Buenos Aires
Whisky Tour of Scotland
(12 Days)
Edinburgh, Oban & Islay, Isle of Skye, Ross (Glenmorangie House), Speyside & Aberdeenshire, Perthshire (Gleneagles)
Food & Wine Tour of the Basque Country & Portugal
(14 days)
Bilbao, Biarritz, San Sebastian, Rioja, Ribera del Duero, Douro Valley, Porto, Lisbon
Culinary Tour of Sicily
(8 Days - Departs Daily on a Private Basis)
Palermo & Monreale, Trapani, Marsala, Sciacca, Agrigento, Noto, Modica, Taormina, Mount Etna
This private tour of Sicily features the culinary and cultural highlights of this beautiful island in the Mediterranean Sea.
During private market tours and cooking classes, learn about the Arab, Greek, Roman, Norman, Spanish, Jewish and other influences in Sicily's delicious and fascinating cuisine. Sample Sicilian specialties such as arancini (fried stuffed rice balls), pasta con le sarde (pasta with sardines and wild fennel), caponata (eggplant relish) and cannoli. Also taste unique Sicilian wine and olive oil, visit local food markets, and tour ancient ruins and archaeological sites.
Begin in Palermo. The vibrant capital of Sicily, Palermo is home to some of Italy's most fascinating cultural gems including impressive private museums, the country's largest opera house and a robust food culture. During private touring, explore lively local markets, the old Arab quarter and unique UNESCO-listed Arab-Norman architecture. Also, take a private excursion to Monreale for a private tour of the stunning cathedral, a masterpiece of Arab, Norman and Byzantine art.
Next, drive along Sicily's western coast, passing medieval windmills that dot the landscape. Stop at the famed salt pans outside Trapani, and visit a winery in the nearby town of Marsala to taste the eponymous amber-hued dessert wine. Continue to a luxurious resort on the Mediterranean Sea outside Sciacca. During leisure time, enjoy the extensive facilities at your resort, such as a beach, pool, golf course and award-winning spa. Also visit the local village, known for its ceramics and coral studios. One day, on a private excursion to a countryside vineyard and winery, enjoy a private cooking class and sample some of Sicily's best wines and unique varietals.
Next, tour ancient Agrigento and the Valley of the Temples, an outstanding collection of well-preserved Hellenistic ruins and early Christian sites that's one of the most significant archaeological sites in the Mediterranean. Also enjoy lunch in Kolymbetra Garden, an enchanting valley amid the temples that's filled with aromatic Mediterranean shrubs, almond trees, olive orchards and citrus groves. Continue to the Baroque town of Noto to tour the UNESCO-listed architectural sites and enjoy a dessert and gelato tasting with one of Sicily's most prominent pastry chefs. Also visit nearby Modica to try the local chocolate, which is still made according to Aztec recipes brought from Mexico by the Spanish conquistadores.
Continue to Taormina, a historic clifftop town overlooking the sea. During private touring, visit the Greek theater, beautiful gardens, bougainvillea-lined backstreets, local markets, and gourmet boutiques stocked with prized pistachio cream, plump salt-packed capers, fragrant olive oil, fruit-shaped marzipan, and other Sicilian specialties. Also sample local pastries in an ancient monastery. Another day, take a private excursion to Mount Etna, an active volcano synonymous with Sicily whose fertile soil supports vineyards, orchards and farms. Visit a renowned local winery for an informative wine tasting and lunch of regional dishes.
This tour can be combined with culinary touring elsewhere in Italy, Europe or North Africa & the Middle East.
Itinerary Overview
Day 1

Arrive Palermo

Private arrival transfer to hotel for 2 nights. Afternoon private city tour
Day 2

Palermo

Morning private market tour and cooking class. Afternoon tour of Monreale
Day 3

Palermo – Trapani & Marsala - Sciacca

Private transfer to resort for 2 nights with private touring en route including Trapani salt pans and Marsala wine touring
Day 4

Sciacca

Private half-day winery tour, cooking class, gourmet lunch and wine tasting. Afternoon at leisure
Day 5

Sciacca – Agrigento & Valley of the Temples – Noto

Private transfer to hotel for overnight with tour of Agrigento and Valley of the Temples en route. Afternoon private tour of Noto including dessert tasting
Day 6

Noto & Modica - Taormina

Private transfer to hotel for 2 nights with private touring of Baroque Cities en route, including chocolate touring in Modica
Day 7

Taormina & Mount Etna

Private excursion to Mount Etna including private winery tour and lunch
Day 8
Depart Taormina


Private transfer to Catania airport
Hotels
| | |
| --- | --- |
| Palermo: | Grand Hotel Villa Igiea |
| Noto: | Seven Rooms Villadorata |
| Sciacca: | Verdura Resort |
| Taormina: | Grand Hotel Timeo |
Cost
| | |
| --- | --- |
| $11,540 | Per person (double occupancy) |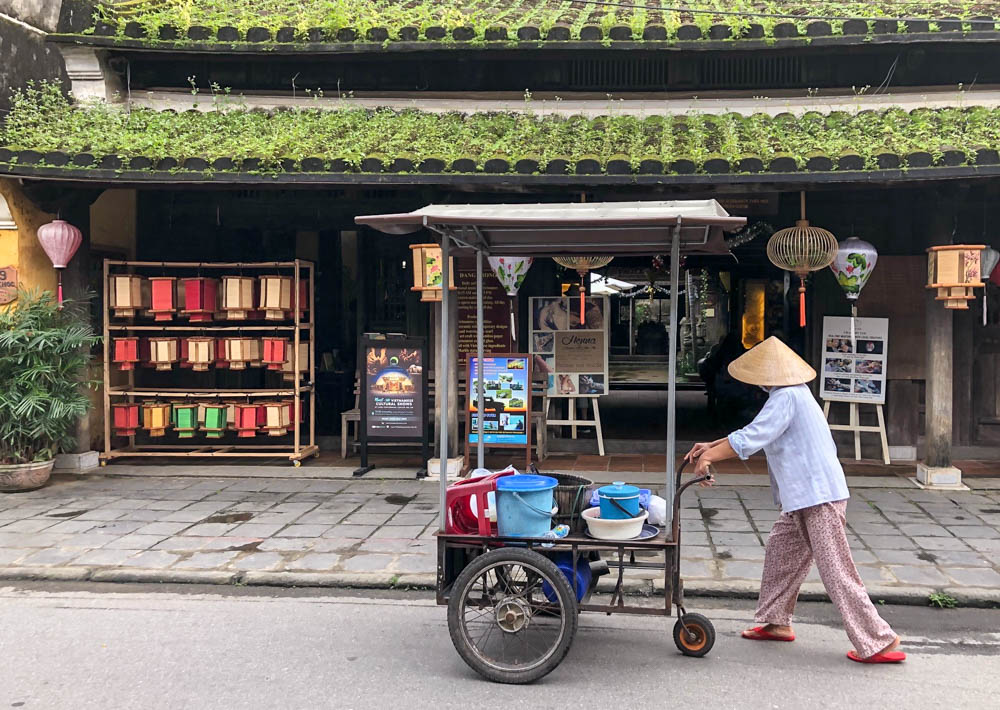 Vietnam for Foodies
(11 Days)
Hanoi, Hue, Hoi An, Saigon
Food & Wine Tour of Italy
(11 Days)
Piedmont, Bologna & Emilia-Romagna, Tuscany & Florence
Flavors of Southeast Asia
(16 Days)
Singapore, Saigon, Hoi An, Hanoi, Chiang Mai, Bangkok
Food & Wine of Spain
(8 Days)
Madrid & Segovia, Ribera del Duero, San Sebastian with Rioja & Bilbao
Culinary Tour of Mexico
(10 Days)
Oaxaca, Puebla, Mexico City
Food & Wine Tour of Lebanon
(7 Days)
Beirut, Sidon, Tyre, Chouf Mountains, Baalbek, Byblos, Batroun
Culinary Tour of China
(13 Days)
Beijing & Great Wall, Xian, Hangzhou, Shanghai, Hong Kong
Food & Wine of Austria
(7 Days)
Vienna & environs (the Wachau, Burgenland)
Culinary Tour of Japan
(12 Days)
Tokyo, Kanazawa, Yamanaka Onsen, Kyoto
Food & Wine of Australia
(12 Days)
Melbourne, Yarra Valley, Mornington Peninsula, Barossa, Adelaide, McLaren Vale, Margaret River, Perth
Thailand for Foodies
(7 Days)
Bangkok, Chiang Mai
Food & Wine of France & Switzerland
(12 Days)
Paris, Champagne, Burgundy, Beaujolais & Lyon, Lausanne & Gruyeres
Wine Tour of Hungary
(6 Days)
Eger-Tokaj Wine Region, Budapest
Food & Wine of Portugal
(9 Days)
Porto, Douro Valley, Lisbon & environs
Culinary Tour of Greece and Turkey
(10 Days)
Athens, Crete, Istanbul
Culinary Tour of Sicily
(8 Days)
Palermo & Monreale, Trapani, Marsala, Sciacca, Agrigento, Noto, Modica, Taormina, Mount Etna
Culture, Crafts & Cuisine of Ireland
(13 Days)
Dublin, Ballyfin, Ballymaloe, Killarney, Adare, Ashford Castle
Culinary Tour of Peru
(9 Days)
Lima, Sacred Valley, Machu Picchu, Cusco
Morocco for Foodies
(10 Days)
Fez, Marrakesh
Culinary Tour of Israel
(7 Days)
Jerusalem, Tel Aviv
France for Foodies
(12 Days)
Paris, Beaujolais & Lyon, Avignon, Luberon Valley, Cote d'Azur
Singapore for Foodies
(4 Days)
Culinary Tour of India
(13 Days)
Delhi, Udaipur, Mumbai, Chennai
Culinary Tour of South Korea
(5 Days)
Seoul & Jeonju
Best of Piedmont
(5 Days)
The Ultimate Wine Tour: Argentina & Chile
(12 Days)
Colchagua Valley, Santiago & Valparaiso, Mendoza, Buenos Aires
Whisky Tour of Scotland
(12 Days)
Edinburgh, Oban & Islay, Isle of Skye, Ross (Glenmorangie House), Speyside & Aberdeenshire, Perthshire (Gleneagles)
Food & Wine Tour of the Basque Country & Portugal
(14 days)
Bilbao, Biarritz, San Sebastian, Rioja, Ribera del Duero, Douro Valley, Porto, Lisbon
We absolutely LOVED India in every way! The cookery lesson and lunch in Udaipur was great…the lunch was delicious, the house was lovely and they were so warm and welcoming. 
~ R.L., Washington, D.C.
Japan was excellent—we all had a blast. Your attention to detail and your ability to be foodie-focused and find outstanding guides sets you apart.
~ R.S., St. Petersburg, FL
One of the highlights of the trip to Bali was the cooking class you arranged in Ubud. Our instructor was the owner of the restaurant and they were so accommodating to our tastes and created a menu just for us. 
~ T.J., Norfolk, VA
Recommended by:
Departures
Conde Nast Traveler
The New York Times
Wall Street Journal
Travel + Leisure
Town & Country
Wine and Truffles in Piedmont, Italy
Touring Toyoso and Tsukiji Markets in Tokyo
Street Food at Singapore's Hawker Centers