Vietnam for Foodies
(11 Days)
Hanoi, Hue, Hoi An, Saigon
Food & Wine Tour of Italy
(11 Days)
Piedmont, Bologna & Emilia-Romagna, Tuscany & Florence
Flavors of Southeast Asia
(16 Days)
Singapore, Saigon, Hoi An, Hanoi, Chiang Mai, Bangkok
Food & Wine of Spain
(8 Days)
Madrid & Segovia, Ribera del Duero, San Sebastian with Rioja & Bilbao
Culinary Tour of Mexico
(10 Days)
Oaxaca, Puebla, Mexico City
Food & Wine Tour of Lebanon
(7 Days)
Beirut, Sidon, Tyre, Chouf Mountains, Baalbek, Byblos, Batroun
Culinary Tour of China
(13 Days)
Beijing & Great Wall, Xian, Hangzhou, Shanghai, Hong Kong
Food & Wine of Austria
(7 Days)
Vienna & environs (the Wachau, Burgenland)
Culinary Tour of Japan
(12 Days)
Tokyo, Kanazawa, Yamanaka Onsen, Kyoto
Food & Wine of Australia
(12 Days)
Melbourne, Yarra Valley, Mornington Peninsula, Barossa, Adelaide, McLaren Vale, Margaret River, Perth
Thailand for Foodies
(7 Days)
Bangkok, Chiang Mai
Food & Wine of France & Switzerland
(12 Days)
Paris, Champagne, Burgundy, Beaujolais & Lyon, Lausanne & Gruyeres
Wine Tour of Hungary
(6 Days)
Eger-Tokaj Wine Region, Budapest
Food & Wine of Portugal
(9 Days)
Porto, Douro Valley, Lisbon & environs
Culinary Tour of Greece and Turkey
(10 Days)
Athens, Crete, Istanbul
Culinary Tour of Sicily
(8 Days)
Palermo & Monreale, Trapani, Marsala, Sciacca, Agrigento, Noto, Modica, Taormina, Mount Etna
Culture, Crafts & Cuisine of Ireland
(13 Days)
Dublin, Ballyfin, Ballymaloe, Killarney, Adare, Ashford Castle
Culinary Tour of Peru
(9 Days)
Lima, Sacred Valley, Machu Picchu, Cusco
Morocco for Foodies
(10 Days)
Fez, Marrakesh
Culinary Tour of Israel
(7 Days)
Jerusalem, Tel Aviv
Culinary Tour of France
(8 Days)
Paris, Avignon, Aix-en-Provence
Singapore for Foodies
(4 Days)
Culinary Tour of India
(13 Days)
Delhi, Udaipur, Mumbai, Chennai
Culinary Tour of South Korea
(6 Days)
Seoul, Busan
Best of Piedmont
(5 Days)
The Ultimate Wine Tour: Argentina & Chile
(12 Days)
Colchagua Valley, Santiago & Valparaiso, Mendoza, Buenos Aires
Whisky Tour of Scotland
(12 Days)
Edinburgh, Oban & Islay, Isle of Skye, Ross (Glenmorangie House), Speyside & Aberdeenshire, Perthshire (Gleneagles)
Food & Wine Tour of the Basque Country & Portugal
(14 days)
Bilbao, Biarritz, San Sebastian, Rioja, Ribera del Duero, Douro Valley, Porto, Lisbon
Culinary Tour of Slovenia & Croatia
(12 Days)
Ljubljana & Lake Bled, Istria, Split, Dubrovnik
Food & Wine Tour of Slovenia
(7 Days)
Ljubljana with Lake Bled & the Julian Alps, Portoroz with Brda & Piran
Food, Design & Culture of Copenhagen & Sweden
(12 Days)
Stockholm, Kingdom of Crystal, Wanas, Malmo, Copenhagen
Cultural & Culinary Tour of Taiwan
(8 Days)
Taipei, Tainan, Sun Moon Lake
Luxury Culinary Tours

We believe that cuisine is a highlight of travel, and we have carefully designed our culinary tours to include exclusive experiences that best capture the unique food, wine and culinary traditions of each destination.
In addition to our culinary tours, we will gladly customize a program to suit your level of culinary interest and proficiency in any of our destinations around the world.
Experience the best of authentic local cuisine through:
A variety of dining experiences and venues, including chef's tables, temple restaurants, private dining clubs, private homes (with local families), street vendors and Michelin-starred restaurants
A variety of cooking classes, from private to group, demonstration to hands-on, one-hour to all-day to learn how to select and prepare local ingredients and to learn how cuisine reflects the local culture, climate and geography
Behind-the-scenes tours of bakeries, wineries, farms, orchards and artisanal food workshops
Visits to the best specialty markets, gourmet shops, farmers and other food sources
Shopping for cooking utensils, then learning how to use them
Wine tasting at acclaimed vineyards and assistance with buying and shipping wine home
Reservations at renowned restaurants, cooking clubs and private clubs
Private touring of the cultural highlights of each region, with an emphasis on local culinary specialties and traditions
In addition, experience:
The world's best hotels and resorts
Your own guide and driver
Comprehensive private cultural sightseeing
All of our tours, including our culinary tours, can be customized to accommodate travelers with food restrictions.
Please contact us at (800) 214-8144 to begin designing your ideal private culinary tour.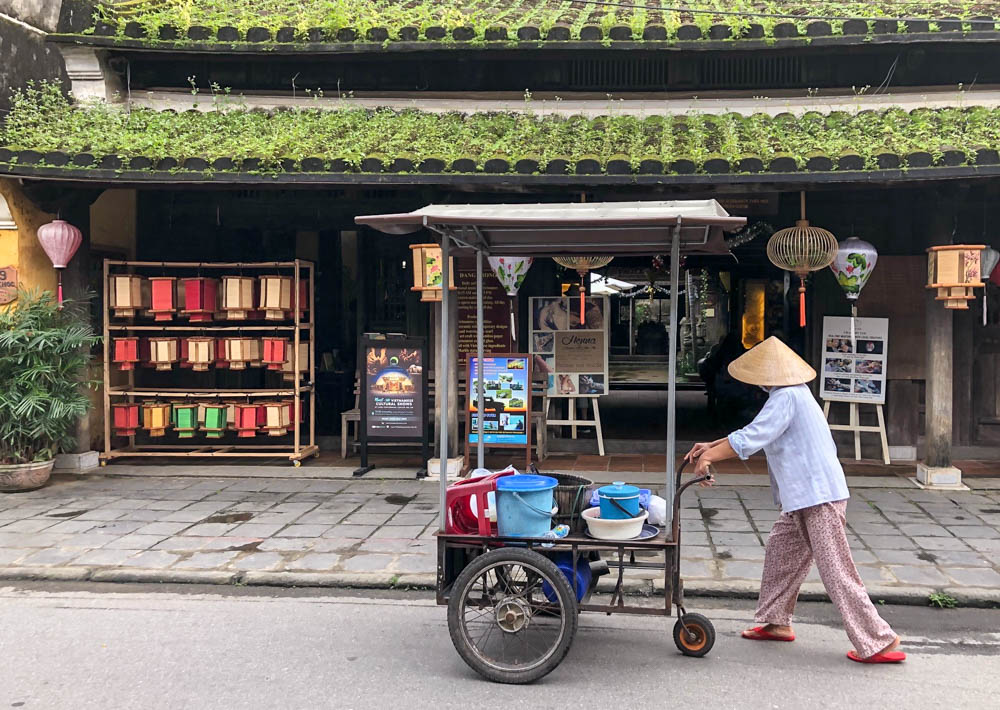 Vietnam for Foodies
(11 Days)
Hanoi, Hue, Hoi An, Saigon
Food & Wine Tour of Italy
(11 Days)
Piedmont, Bologna & Emilia-Romagna, Tuscany & Florence
Flavors of Southeast Asia
(16 Days)
Singapore, Saigon, Hoi An, Hanoi, Chiang Mai, Bangkok
Food & Wine of Spain
(8 Days)
Madrid & Segovia, Ribera del Duero, San Sebastian with Rioja & Bilbao
Culinary Tour of Mexico
(10 Days)
Oaxaca, Puebla, Mexico City
Food & Wine Tour of Lebanon
(7 Days)
Beirut, Sidon, Tyre, Chouf Mountains, Baalbek, Byblos, Batroun
Culinary Tour of China
(13 Days)
Beijing & Great Wall, Xian, Hangzhou, Shanghai, Hong Kong
Food & Wine of Austria
(7 Days)
Vienna & environs (the Wachau, Burgenland)
Culinary Tour of Japan
(12 Days)
Tokyo, Kanazawa, Yamanaka Onsen, Kyoto
Food & Wine of Australia
(12 Days)
Melbourne, Yarra Valley, Mornington Peninsula, Barossa, Adelaide, McLaren Vale, Margaret River, Perth
Thailand for Foodies
(7 Days)
Bangkok, Chiang Mai
Food & Wine of France & Switzerland
(12 Days)
Paris, Champagne, Burgundy, Beaujolais & Lyon, Lausanne & Gruyeres
Wine Tour of Hungary
(6 Days)
Eger-Tokaj Wine Region, Budapest
Food & Wine of Portugal
(9 Days)
Porto, Douro Valley, Lisbon & environs
Culinary Tour of Greece and Turkey
(10 Days)
Athens, Crete, Istanbul
Culinary Tour of Sicily
(8 Days)
Palermo & Monreale, Trapani, Marsala, Sciacca, Agrigento, Noto, Modica, Taormina, Mount Etna
Culture, Crafts & Cuisine of Ireland
(13 Days)
Dublin, Ballyfin, Ballymaloe, Killarney, Adare, Ashford Castle
Culinary Tour of Peru
(9 Days)
Lima, Sacred Valley, Machu Picchu, Cusco
Morocco for Foodies
(10 Days)
Fez, Marrakesh
Culinary Tour of Israel
(7 Days)
Jerusalem, Tel Aviv
Culinary Tour of France
(8 Days)
Paris, Avignon, Aix-en-Provence
Singapore for Foodies
(4 Days)
Culinary Tour of India
(13 Days)
Delhi, Udaipur, Mumbai, Chennai
Culinary Tour of South Korea
(6 Days)
Seoul, Busan
Best of Piedmont
(5 Days)
The Ultimate Wine Tour: Argentina & Chile
(12 Days)
Colchagua Valley, Santiago & Valparaiso, Mendoza, Buenos Aires
Whisky Tour of Scotland
(12 Days)
Edinburgh, Oban & Islay, Isle of Skye, Ross (Glenmorangie House), Speyside & Aberdeenshire, Perthshire (Gleneagles)
Food & Wine Tour of the Basque Country & Portugal
(14 days)
Bilbao, Biarritz, San Sebastian, Rioja, Ribera del Duero, Douro Valley, Porto, Lisbon
Culinary Tour of Slovenia & Croatia
(12 Days)
Ljubljana & Lake Bled, Istria, Split, Dubrovnik
Food & Wine Tour of Slovenia
(7 Days)
Ljubljana with Lake Bled & the Julian Alps, Portoroz with Brda & Piran
Food, Design & Culture of Copenhagen & Sweden
(12 Days)
Stockholm, Kingdom of Crystal, Wanas, Malmo, Copenhagen
Cultural & Culinary Tour of Taiwan
(8 Days)
Taipei, Tainan, Sun Moon Lake
We absolutely LOVED India in every way! The cookery lesson and lunch in Udaipur was great…the lunch was delicious, the house was lovely and they were so warm and welcoming. 
~ R.L., Washington, D.C.
Japan was excellent—we all had a blast. Your attention to detail and your ability to be foodie-focused and find outstanding guides sets you apart.
~ R.S., St. Petersburg, FL
One of the highlights of the trip to Bali was the cooking class you arranged in Ubud. Our instructor was the owner of the restaurant and they were so accommodating to our tastes and created a menu just for us. 
~ T.J., Norfolk, VA
Recommended by:
Departures
Conde Nast Traveler
The New York Times
Wall Street Journal
Travel + Leisure
Town & Country
Wine and Truffles in Piedmont, Italy
Touring Toyoso and Tsukiji Markets in Tokyo
Street Food at Singapore's Hawker Centers